You can feel the passion at first glance. Quality, well-conceived functionality and clarity are combined skilfully by Friedr. Dick in this knife block. And now the F. DICK 4Knives knife block is also available in a fresh, clean adaptation in elegant white.
The 4Knives knife block is already well-known in many kitchens for its clear design, well-conceived functionality and quality. It is made of high-quality acrylic glass and contains a magnetic rail that fixes the knife blades in place and stores them securely and in an orderly fashion.
The 4Knives knife block can accommodate four knives. Filled F. DICK knife blocks include a small, fine paring knife for all peeling tasks, small cutting tasks and decorating, a Santoku with Kullenschliff, known as the Asian classic knife, for meat, fish and vegetables, a chef's knife as an all-rounder for any kitchen and a bread knife for bread and hard-skinned vegetables.
The 4Knives knife block can be disassembled and therefore also cleaned without any problems. Friedr. Dick recommends cleaning it by hand with a soft, damp cloth that will not damage the acrylic surface. Simple, hygienic and safe. It is distinguished by its light weight and an intelligent, space-saving transport and storage solution, which is unique due to an ingenious closure system. This system allows the disassembly of the two plastic plates so that they can be placed together to save space. The cotton bag that is included protects the acrylic surface from scratching during transport.
A long-standing family tradition and the modern age – these skilfully bring together a product of the highest standard. These items are available in a new look with the Red Spirit, Premier Plus and Pink Spirit series.
A version without knives is also available.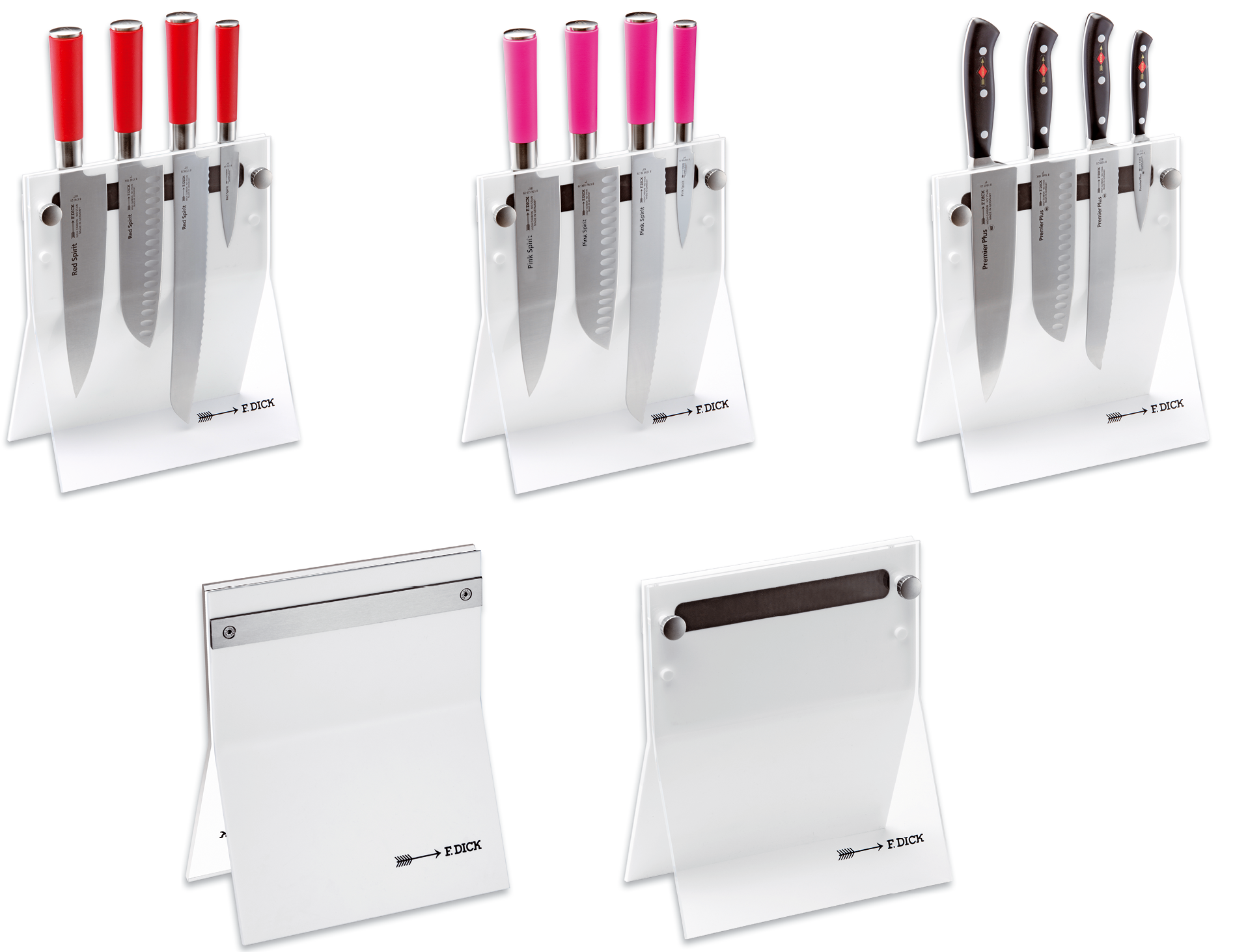 Friedr. Dick is the only manufacturer worldwide who offers a complete range of knives, sharpening steels, ancillary items for chefs and butchers as well as grinding machines, sharpening machines and knife cleaning devices. The long-standing tradition and experience of manufacturing products for chefs and butchers allow a continuous development of innovative products. Input from customers, especially end-users and our own ideas are converted into high-quality products. 