One of the greatest challenges food producers are currently facing is cost-efficient production while maintaining the highest possible quality standards. This is where production lines come in, enabling work processes to be optimally coordinated with one another and providing opportunities for the continuous inspection of the product as it is being processed.
Over the past few years, Laska has invested a great deal in the further development of production lines so that it can offer machines that are compelling both when used in combination and as stand-alone solutions. The sophisticated control technology and networking of the machines increases productivity in comparison to manually operated machines and guarantees consistently high product quality.
Laska is showcasing its expertise. In a 2,000 m2 automation technology centre, customers will very soon have the opportunity to experience the entire development process of their production line up close, from production to assembly to commissioning.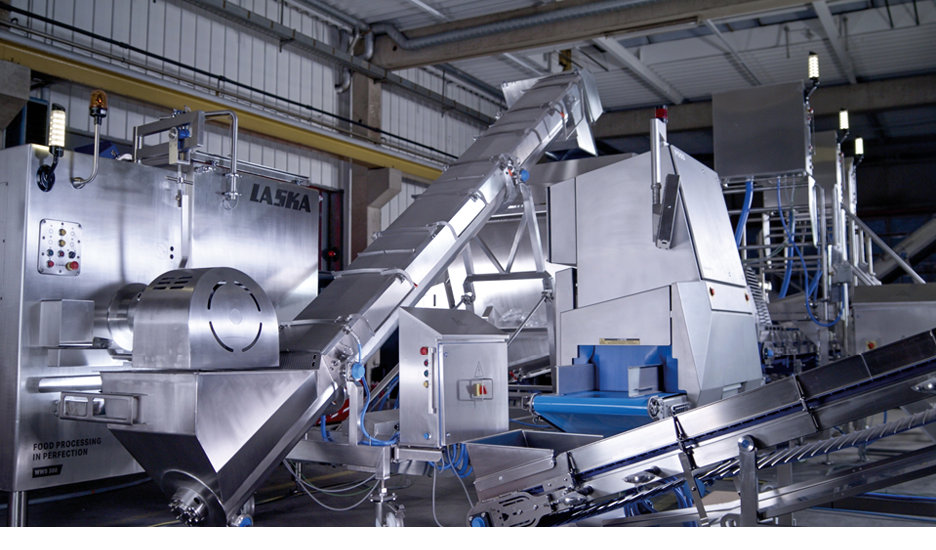 Numerous advantages – one production line
Production lines from Laska offer many other advantages. For instance, the operator can control the entire production process easily and intuitively with the help of a touchscreen. By visualising the entire line on the screen, you can keep an eye on all production data together with the automatic safety monitoring and recommendations for action, which make it possible to rectify any faults without delay.
On top of that, production lines reduce costs and improve food safety: The processing is carried out efficiently and exactly according to the recipe, thereby saving raw materials. The optimised hygienic design saves on cleaning time, reduces the risk of the goods becoming contaminated and increases the shelf life of the food produced. The logging and storage of all data make traceability possible, which is increasingly demanded by trade and consumers.
The standardised OPC/UA interface of the Laska machines also guarantees full flexibility. This allows for easy expansion of existing production lines or the stand-alone implementation of individual machines at any time.
Automation in three expansion stages
The Laska enterprise offers a variety of systems, classified according to the degree of automation. From the most basic version, which saves the operator a few manual actions, to a more complex one that independently optimises the output, to a system that allows the entire product management to be controlled in a decentralised manner and that can be integrated into an existing MES system.