Şenpiliç, Turkey's largest chicken producer, has selected Meyn as preferred supplier of processing equipment for their new Greenfield processing plant in Osmaniye. The new operation represents an investment of 400 million Turkish lira ($75 million USD) and proudly showcases the first Rapid Plus M4.1 in the region.
Şenpiliç is Turkey's largest chicken meat producer with 16% market share, delivering 320,000 tons of pro-duct per year. As a pioneering brand in Turkey's chicken sector, the company operates 24 breeding farms, two hatcheries, and two feed mills. Their Söğütlü and Ali Fuat Paşa processing plants support 880 contracted farms. By providing employment to 3,074 people directly, and 10,000 people indirectly, Şenpiliç is a significant contributor to the Turkish economy.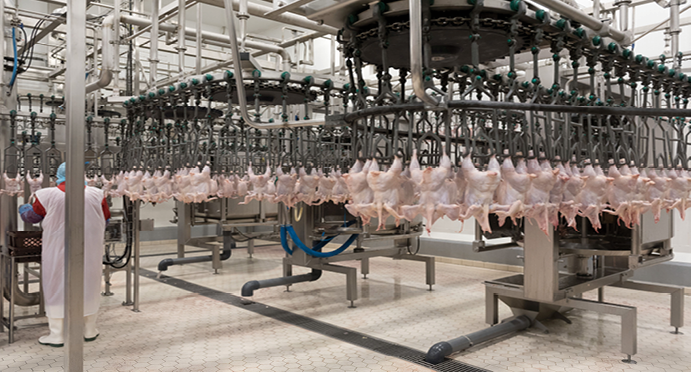 Export is booming in Turkey, with the chicken meat sector expected to reach an export figure of $1.5 billion USD over the next 5 years. In response to such increased demand, Şenpiliç has invested heavily in its new "Greenfield" processing plant at Kadirli, Osmaniye. The 400 million Turkish lira ($75 million USD) price tag represents the company's largest investment ever, and historically is seen as Turkey's largest-ever agricultural investment. Proximity to a maize-producing region for feed and its logistics advantages for both domestic and export markets, were influential in choosing the location.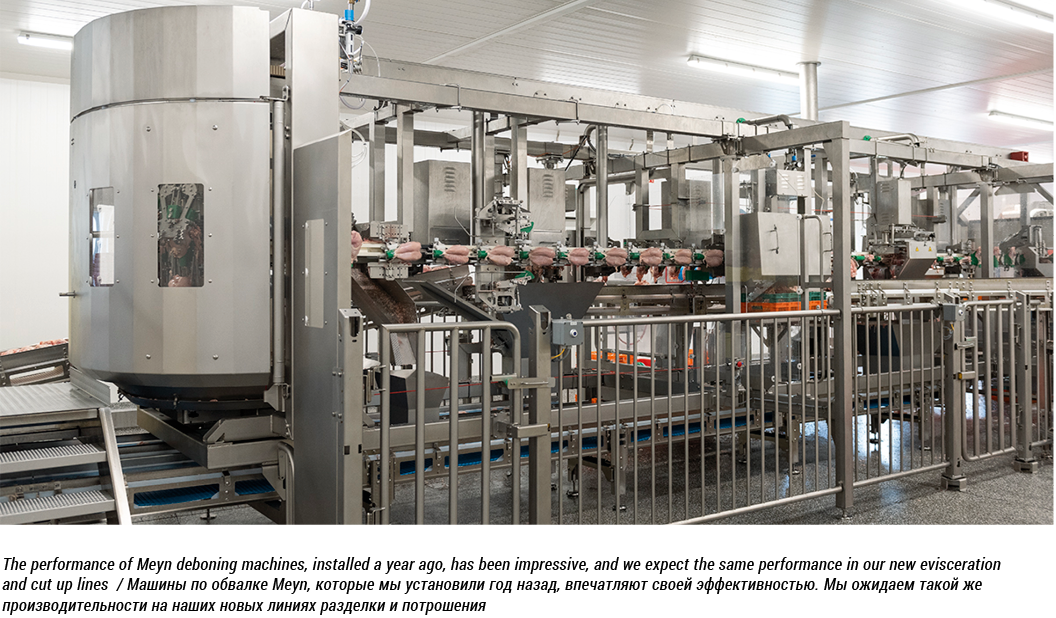 As part of the new Kadirli Greenfield operation Şenpiliç has built a new feed mill with an annual production capacity of 579,500 tons, and a slaughterhouse capable of processing 270,000 birds per day. This investment will be followed by the construction of hatcheries and breeding farms which will become part of the integrated facility. Agreements with 840 existing farms and a total workforce of 3,500 people will create a vertically integrated ecosystem in an area of roughly 200 square kilometers. The new site is expected to become fully operational in January 2019. The plant features a processing line with a total capacity of 15,000 bph, including the first Rapid Plus M4.1 in the region. Meyn is proud to be partnering with Şenpiliç to bring our first 15,000 bph project to Turkey. Şenpiliç's Plant Manager, Ali Balci predicts: "The integrated facility in Kadirli will make a very positive contribution to the area, and produce sustainable growth for Şenpiliç and for our producers and business partners. And we believe Meyn's cooperation will allow us to meet our customer commitments and help ensure a successful outcome."
Şenpiliç has always been interested in the latest innovations in the poultry sector and Meyn became Şenpiliç's preferred partner for the technological advantages. Balci also said: "The performance of Meyn deboning machines, installed a year ago, has been impressive, and we expect the same performance in our new evisceration and cut up lines. The machines' easy adjustment and maintenance as well as Meyn's customer focus also played an important role in our choice of the new Greenfield processing plant in Osmaniye."
Supporting the customer's objectives, Meyn layout engineers also offered strategic planning advice to minimize future expenses on the building by reserving pre-defined spaces for future expansion. Bart Kunst, Regional Sales Manager at Meyn, summarizes: "If you know the challenges the customer faces, it's much easier to offer them the right solutions. At Meyn, we understand customer needs by identifying them at an early stage and staying in close contact. Meyn thanks everyone for a great joint effort over a year and wishes every success to Şenpiliç at their new facility."