Visit Frontmatec at IFFA, May 4 to 9, Hall 9.0, Booth E04 – E16
Leading global supplier of customized equipment, solutions and software for the red meat industry, Frontmatec, participates at IFFA 2019 with a range of new innovative solutions.
Held every three years in Frankfurt, Germany, IFFA is the most important global trade fair for the international meat industry. It is the only trade fair in the world that covers all aspects of meat production and brings together companies from around the world to present their innovations and technologies.
Frontmatec offer, with locations in Europe, America and Asia, complete concepts and turnkey solutions for the international food industry and is especially well known for its high-quality systems for the entire value chain of the meat industry – from carcass grading, slaughter lines, cutting and deboning lines, hygiene systems and control systems to logistics and packaging, all unique solutions, that create considerable value for customers.
Visitors to the Frontmatec booth will be presented with the latest equipment and solutions from the Frontmatec group. On display will be novelty equipment, including a range of robots for both dressing line and cutting & deboning, new carcass grading technologies and new deboning and trimming concepts. ITEC hygiene solutions and packaging will also be on display as will a range of CASH captive bolt stunning tools from Frontmatec Accles & Shelvoke – the world's most popular cartridge stunner manaufacturer which includes the world's first cartridge multi stunner.
The Frontmatec booth at IFFA 2019 will focus on bridging equipment solutions, data acquisition and utilization by applying different automation concepts and technologies. Several solutions will be on display to showcase a variety of innovative solutions and for sighted concepts for production processes in the meat industry under the headline Automation and Integration.
A highlight in this context is the Frontmatec GOSystems software – a manufacturing execution system for managing production key performance indicators, such as yield, throughput, quality and labor efficiencies. The GOSystems platform for traceability ensures constant, direct access to valuable information that can reduce losses on expired products and optimize the product age level. It also provides direct real production time data which is crucial for modern meat processors to optimize ordering, packaging and palletizing processes.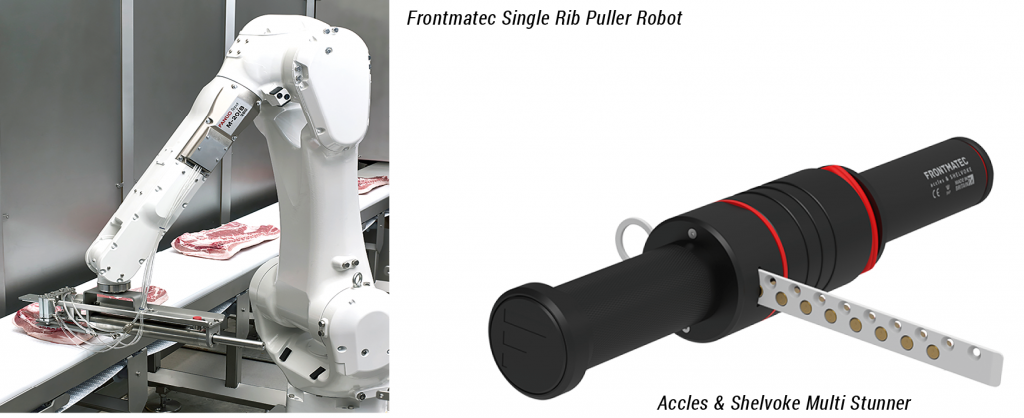 Besides GOSystems, it is also possible to experience the Frontmatec S2 SCADA software – a great tool for increasing uptime and throughput through fast problem solving, localization of breakdowns and faults and preventive maintenance.


Individual carcass data
Obtaining data, besides carcass weight, is crucial in a modern slaughterhouse as it provides valuable information of the raw material that is to be processed. Not only do the data allow for an optimal utilization of each carcass, it can also be used in the inbound supply chain, e.g in optimizing genetics, feeding composition etc.
At IFFA several grading solutions will be displayed, including the Frontmatec AutoFom III™ – the most accurate and fastest fully automatic pig carcass grading system in the world. It is the only system which provides robust and accurate information about yield of primal cuts. AutoFom III™ enables monitoring of cut-floor performance and production planning decisions on the basis of verifiable data rather than on assumptions. Finally, the equipment provides valuable feedback for genetic development.
For cattle Frontmatec will reveal the new Beef Classification Center – BCC-3™– the next generation of objective online grading system and yield prediction of beef carcasses. The BCC-3 makes a complete 3D image of the cattle carcass and based on advanced multi-view stereo imaging it grades in conformation and fat cover classes using sophisticated algorithms, the Frontmatec BCC3 image analysis enables yield predictors of primals and detailed information about commercial cuts. Information that allows the slaughterhouse to process each carcass for an optimal yield.

Let the robots do the work
The unrivalled broad program of robots covering dressing line, over cutting and deboning to packaging helps reduce labour, increase quality and yield. At IFFA, our experts from AIRA and Frontmatec will offer advice on robotic solutions and where best to automate in the process line. Several robot solutions will be demonstrated, including the unique AIRA Dual Splitting Saw which is widely recognised as the most accurate high capacity pig splitting saw in the world. A major new launch from AIRA will be the introduction of robots into the cattle dressing lines. On the stand, a full scale working Cattle Splitting Saw prototype will be displayed.
For the cut floor the Frontmatec Robotic Chine Bone Saw is on display in a completely new configuration with automatic transport of the cut off chine bone and automatic separation of loin and belly using a new developed band saw. Besides labour saving, the possibility to create recipes with parameters suitable for different customer wishes or changes in raw material provides considerable efficiency and yield gains.
One of the key goals within in the meat industry is improved ergonomics and Frontmatec contiounously develop automatic solutions to reach this goal! The latest state of the art solution is a high speed Pork Single Rib Puller with automatic pulling of single ribs with robots, removing one of the most straining working tasks within the pork deboning industry. Using X-ray technology to detect the ribs' position on each individual belly, the information is sent to a PLC. This automatic solution offers better ergonomics and working environment as well as labour savings and a high consistent capacity.

Flexible hanging deboning
New modular built hanging deboning concept for efficient and ergonomic deboning of pork leg or pork shoulder. As one size does not fit all, the company offers individual solutions for each unique customer. The hanging deboning line is designed with grippers, that can rotate the product between the working stations, for optimal ergonomics for each operator. Several automatic and semi-automatic functions can be integrated as well as in-line tray conveyors, offering a fast and reliable intra logistic solution.
Complete controlled management of trimmings from pork, beef or lamb is possible with the Frontmatec Trim Sorting Line. By optimizing yield management, you can increase the value of your trim output by building dedicated portions into pre-determined batches. The line is highly automated and offers full control of fat percentage even for the smallest of batches.
The unique Frontmatec loin 2D trimming machine was recently re-designed and technically updated. The machine individually measures each loin, classifies it, and each trimming is done individually, by 8 individually shaped cutting knives and pressure wheels for different product types, which improves the yield and reduced labour costs.
The popular ITEC Star Clean lane walk through hygiene station for sole and hand hygiene – presents itself at the Frontmatec booth as a new generation featuring two special innovations: continuous sole side cleaning and the UV-disinfection module for brushes!
At the Frontmatec booth visitors will get to know a new innovative continuous flow system for disinfecting surfaces and learn more about maximizing hygiene in their work process with the new ITEC UV-C Tunnel. Using highly effective UV-C radiation, up to 99.99% of micro-organisms are eliminated making it an ideal solution in a wide range of application, such as packaging material disinfection, disinfection of packaged foods, raw sausage disinfection, disinfection lock, shipping crate disinfection, product disinfection and raw material disinfection.
Also on display is the ITEC Cleaning and Sterilizing machine which ensures hygienic cleaning of knives and sharpening steels in large-scale operations in the meat industry. The device is also suitable for related equipment like cleaning cutting inserts, aprons or chain gloves. Together with transport trolleys, knife holders and storage holders it is part of ITEC`s flexible tailor-made cleaning concepts.

Keep the production line in optimal running condition
Investing in Frontmatec equipment is not just about nice features, it is also about providing key benefits such as high production performance, low downtime and peace of mind. Frontmatec After Sales team works continuously to develop concepts and solutions so your production can run at its absolute best. At IFFA, you will meet their After Sales Team who will demonstrate the latest service offerings, including remote connection and how the company can customize service solutions for any individual requirement.
Representatives from every business unit of the group will be present at the Frontmatec booth. Visitors looking to arrange an appointment to learn more on the Frontmatec solutions can book a meeting with an expert by visiting the Frontmatec website: www.Frontmatec.com