"World of innovations" – this was the official motto of this year's Anuga FoodTec trade fair. Handtmann presented a plethora of innovations from filling and portioning technology to automation solutions to trade fair visitors in Cologne. Of all the exhibits, the Anuga Award Gold-winning series of new forming systems took centre stage.
At the Anuga FoodTec 2018 in Cologne, Handtmann received two coveted awards. The DLG (German agriculture and food industry organisation) presented Handtmann with the International Anuga FoodTec Gold Award for the development of a modular forming system for the production of formed, skinless food products in a limitless variety of geometric forms, such as cylinders (e.g. sticks), slices (e.g. burgers), balls and other 3D shapes. The international jury made up of representatives from science and the industry stressed that the automated production of formed products from the most diverse raw materials such as meat, cheese, vegetables or dough broadens the range of modern and contemporary product ideas.
The company achieved further re-cognition with the Meat Technology Award presented by the Meat Technology journal. The newly-developed GS 300 collating system won the Automation category. The GS 300 is a handling system for the automatic depositing of fresh fried sausage into tray packaging. The jury pointed out that the collating system developed by Handtmann is a perfect example of state-of-the-art, interdisciplinary technology and the intelligent networking of processes.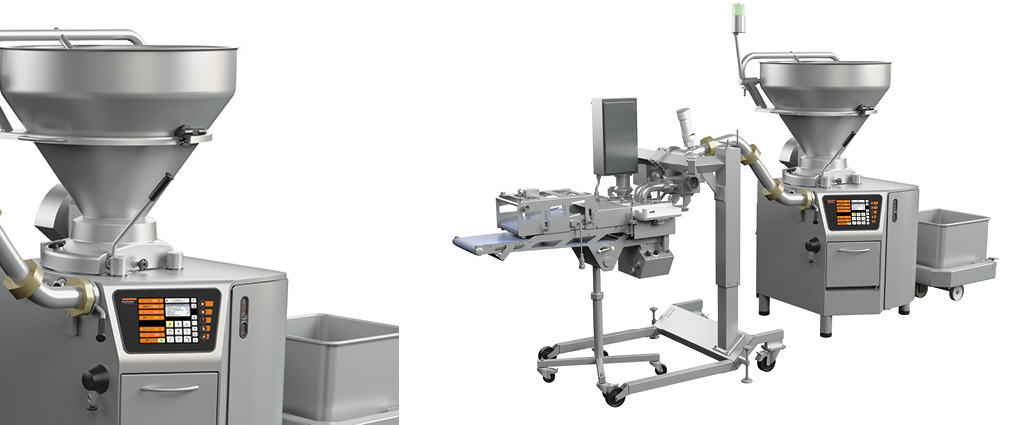 Karl Keller, Managing Director of the Handtmann Maschinenfabrik, was delighted with the prestigious awards. "Both awards demonstrate how innovative the Handtmann Maschinenfabrik is. We are pleased that our new developments have been well-received on the market. Many existing and new customers from the meat processing industry have already placed orders, and others would like to test the machines in the Handtmann Forum in Biberach."
Apart from the award-winning collating and forming systems, the new VF 800 vacuum filler, the patented ConProLink system for products in alginate casing, sausage filling lines and depositing solutions attracted a great deal of interest.