Are you looking for high quality used machinery for the food and beverage industry? Then Industrial Auctions is at your service. Industrial Auctions is the online auctioneer specialized in auctioning machinery, inventory and goods for the food and beverage industry. The company auctions individual machines, complete production lines and entire production sites in an international business-to-business context. Industrial Auctions has grown tremendously in recent years, organizing hundreds of auctions and selling thousands of machines. They organize auctions for renowned companies such as Nestlé, Vion, FrieslandCampina and Jowa, but also for smaller, regional companies.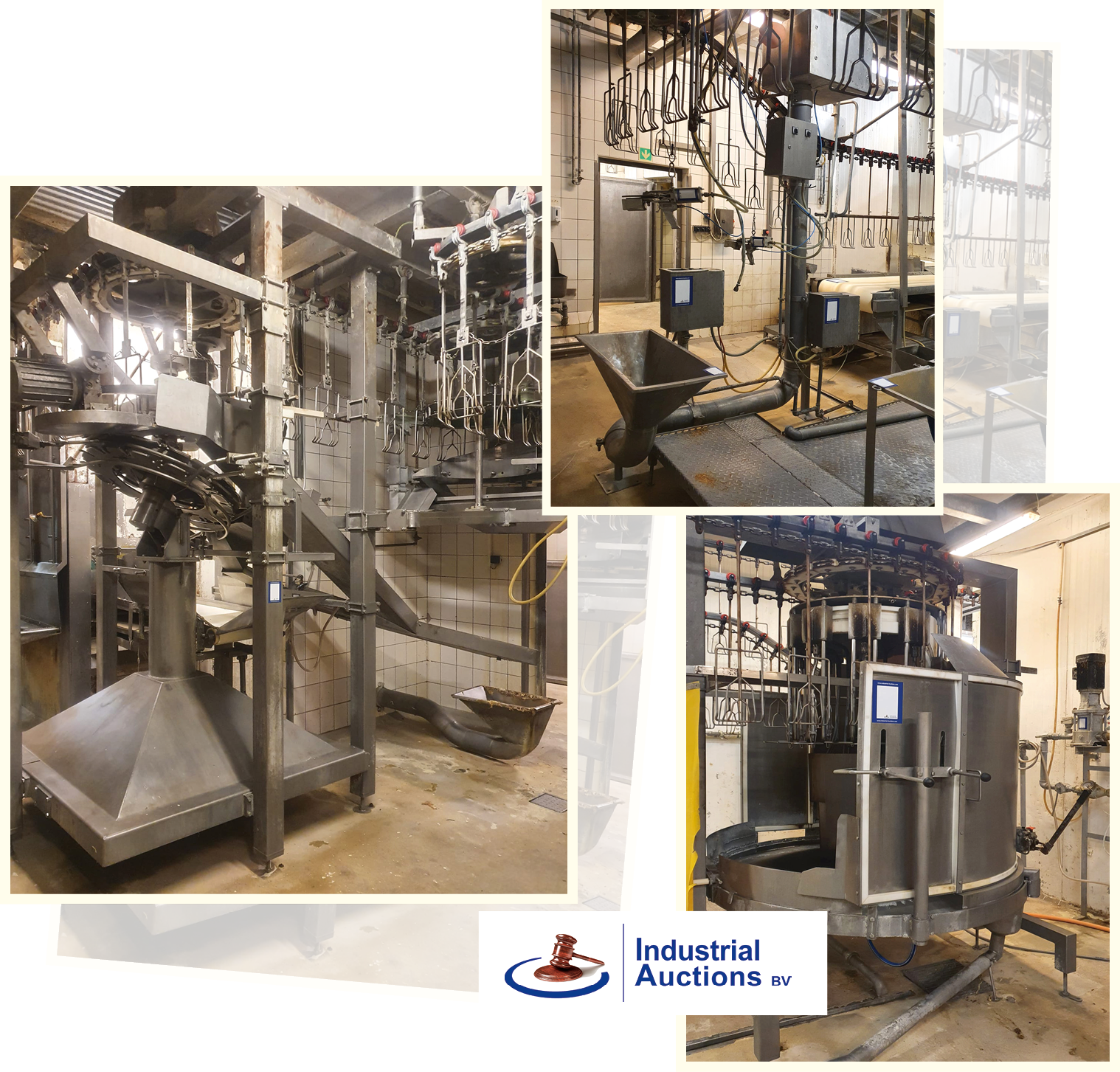 The company has scheduled many interesting auctions for the upcoming months. The offer at these auctions consists of used machines that can be of service for years to come. By giving these machines a new life, Industrial Auctions and its customers are contributing to a sustainable world. In addition, buying a used machine brings several advantages over buying a new machine. For example, a used machine is cheaper and available within a week. The offer consists of for example frozen block cutters, meat grinders, vacuum fillers, packaging machines, mixers, cooling and freezing compressors, pumps, and many more. These machines are from renowned brands such as Kolbe, Maja, Meyn, Vemag, Multivac, Bizerba, Hobart, Treif, and Karl Schnell.
Auction in the spotlight: complete slaughterhouse in Hungary
This online auction consists of a complete slaughterline, processing machines, and inventory of turkey slaughterhouse Gallfood Kft. due to the closing of the location in Kecskemét (HU). The entire contents of the plant will be offered for sale at the online auction. It ranges from machinery for slaughtering turkeys to machinery for processing and packaging turkeys. When the turkeys have an average live weight of 16–22 kg/pc than the capacity of the slaughter-line is 600 pc/h. The capacity is 900 pc/h when the average live weight of the turkeys is 8–10 kg/pc. Besides the specific turkey slaughtering line there are also a lot of machines available on this auction which can also be used in other industries than the turkey processing industry. The offer consists for example of separators, tumblers, cooking vessels, skinning and derinding machines, clippers, bandsaws, thermoforming machines, traysealers, evaporators, and many more. If you want to see one of the biggest turkey slaughterhouses of Hungary with your own eyes, you should visit the viewing day on the 24th of November. The online auction will close on December 1.
To participate in the online auctions and win your favorite lots, the first step is to create a free account on their website www.Industrial-Auctions.com. After registration, Industrial Auctions checks the data to guarantee a safe platform with only fair bids. When you are interested in a lot it is possible to visit the auction location on the planned viewing day for each auction. The date of this viewing day can be found on the auction page, as well as other important dates such as the end date and the date of the pick up day(s). You can register for this viewing day by sending an email. Are you convinced and do you want to place a bid? This is possible from the moment the auction is live on their website. It is also interesting to follow your favorite lots by clicking on the star icon. The lot will then appear on your dashboard together with all other tracked lots. This way you can see all your favorite lots in an overview and immediately place a bid. On the end date of the auction, the auction closes and most bids will be placed. When the lot is closed and you have placed the highest bid, you are the winner of the lot. Please note whether the lot is part of a combination. After the entire auction has been closed, the proforma invoices will be sent out and the won lots can be picked up approximately one week after the closing.
For more questions about the buying process, the offer, or anything else, feel free to contact the company by mail or phone.
Info@Industrial-Auctions.com
040 2409 208
www.Industrial-Auctions.com