Open cooking cutters complement the internationally successful Hygienic Secure range
Industrial bowl cutters from K+G Wetter are synonymous with efficient food processing on an XXL scale, while also focussing on hygiene – right down to the smallest detail. Brand new and unique worldwide: applications that demand a cooking function are no longer forced to utilise a vacuum bowl cutter! For the first time, the new CM 200 and CM 360 models now also offer a high-quality and efficient cooking system for open cutters, without using vacuum technology.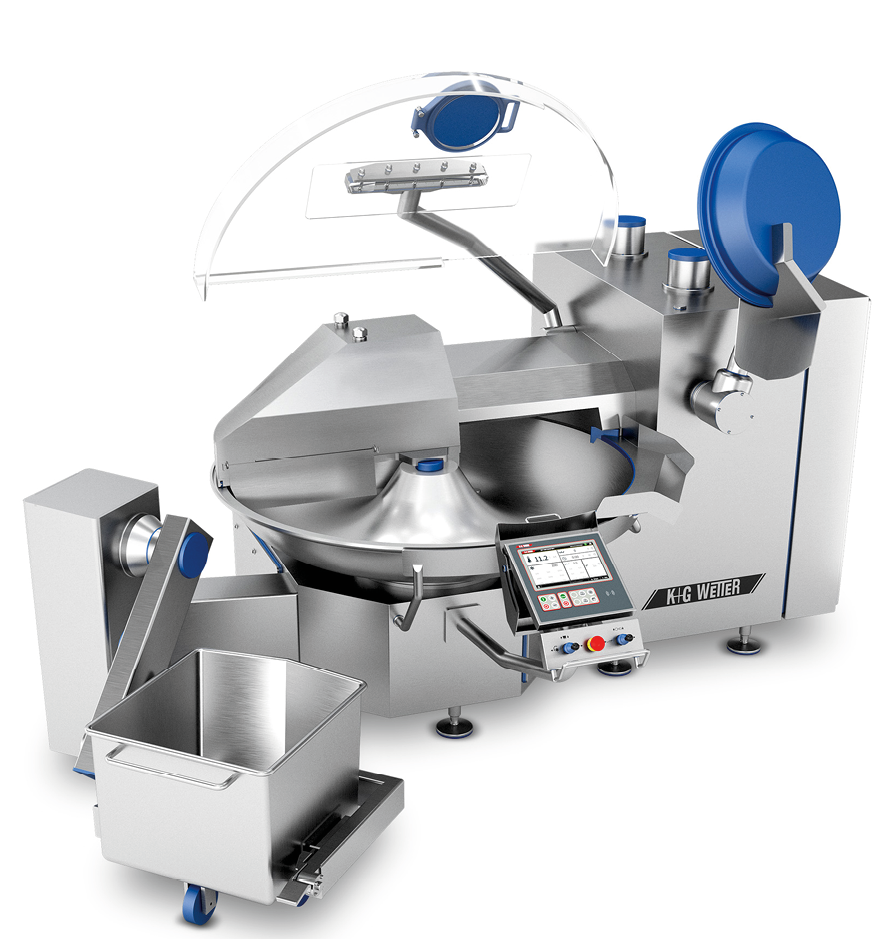 Hygienic Secure established internationally
It's all in the name with the Hygienic Secure range from K+G Wetter. Right at the heart of food processing, hygiene is centre focus here. "When further developing our machines, our first priority is to always have a clear benefit and advantage for our customers in mind," explains Volker Schlosser. "The industrial vacuum bowl cutters in the Hygienic Secure range are established on the international market. This shows us that we are on the right path as a premium brand – with high quality and real benefits that help our customers to produce excellent products."
The new non-vacuum Hygienic Secure cooking cutters
The range has now been expanded to include the CutMix 360 and CutMix 200, which deliver all of the advantages of the Hygienic Secure range. The sophisticated optional cooking equipment has been adopted from the proven VCM vacuum bowl cutter range and is now also available for the first time in open cutters.
"A vacuum system is advantageous for many products, offering greater protein digestion, better bound sausage meat and fewer air inclusions, for instance. However, a vacuum bowl cutter is more complicated, and consequently more cost-intensive, to build," says Sales Manager International Volker Schlosser. "We have therefore now equipped our industrial bowl cutters with the cooking system from the Hygienic Secure range for customers whose products benefit less from vacuum technology. This makes the machines especially interesting in economic terms, because we no longer need the extremely complex design of a vacuum bowl cutter in order to utilise the cooking function. This reduces costs enormously."
Double-walled cooking bowl for efficiency and hygiene
The unique solution developed by K+G Wetter for particularly hygienic and energy-saving cooking is a double-walled cooking bowl. The closed-system design means that the supplied steam heats the cooking bowl very quickly – and only via the space between the bowl's dual walls. This delivers considerable savings in terms of both energy and, therefore, cost. The fact that this also keeps the steam completely separate from the processed product provides a one hundred percent hygienic security guarantee: the risk of contamination from steam is fully excluded.
Versatile range of applications
The new Hygienic Secure industrial bowl cutters from K+G Wetter deliver top-quality sausage meat, even without the vacuum function. All types of cooked sausage are produced with extremely low energy consumption and considerable time savings. Furthermore, the CM 360 and CM 200 are also excellent for making convenience products such as fillings, soups and stews, and for sauces such as Bolognese, or even vegetarian and vegan dishes in large quantities.
Patented knife cover strips: safe cleaning, perfect seal, little wear
One highlight of all Hygienic Secure cutters in the K+G Wetter range is the patented knife cover strip which forms a seal between the cutter bowl and cover. It can be removed for cleaning in an instant and snapped back into place – safely and without the use of tools. Moreover, its special design absorbs the frictional resistance caused by the rotating movements of the cutter bowl, thereby causing less wear. A small detail that makes a big difference, because there are no concealed corners where deposits could form. This innovation from K+G Wetter received the Silver International FoodTec Award 2021.
Sound investment for the future in machines for the meat industry
Like all machines from K+G Wetter, the Hygienic Secure cutters offer a sound investment for the future: robust from year one and designed for decades of use, they can be used flexibly for a wide range of products. The cast iron body, which K+G Wetter is the only manufacturer worldwide to offer, makes the machines extremely stable and ensures they run smoothly and have a long service life. "The cast-iron body design naturally adds to the cost," explains Sales Manager Volker Schlosser. However, we are maintaining these high quality standards because we are convinced that it also benefits our customers in terms of the quality of their products." For added hygienic safety, all K+G Wetter cutters feature hand-polished, sloped stainless steel surfaces. These allow cleaning agents and water to run off safely and reliably, without puddles or standing water forming. 
The Hygienic Secure industrial bowl cutters from K+G Wetter can also be seen at the IFFA 2022 Exhibition in Frankfurt: Hall 8, stand D96
www.kgwetter.de