Industrial Auctions is an auctioneer specialized in the food and beverage industry. With its ten years of existing, the company is experiencing great growth. Reason to visit Ad van Kollenburg, CEO, at his office in Eindhoven.
The atmosphere is clearly informal in the Industrial Auctions building, which also houses the storage facility. I ask Ad what the biggest change is in the auction market in the ten years that he runs the company. Ad: "More and more people and companies turn to an online auction platform to buy or sell their inventory, goods and machines. This has become very normal due to digitalization. Nowadays, most people buy solely based on a picture and description on the internet. Previously, it mainly concerned auctions due to bankruptcy, now a relocation or innovation of the factory are common reasons as well.
We cannot give any guarantees, simply for the reason that the machines are not ours. We are an intermediary, but we are very committed to providing the buyer with as much information as possible. We are honest, reliable and transparent." Industrial Auctions shows this by assessing the project and the lots as accurately as possible, so that buyer and seller are faced with none or as few surprises as possible. The technical condition of the machines are described as detailed as possible and the lots are thoroughly visualized by the project managers of Industrial Auctions by taking many and clear photos. Ad explains that this benefits both their direct clients – the seller – and the buyer: "A client wants to sell as much as possible and the buyer wants to buy at a reliable address. False or missing information both counteract with that. By taking many and reliable photos of the machines we auction – including of the inside of the machines – buyers can see that there is still wiring or a required vacuum pump for example," Ad explains to me. "We always ask our clients and the technical team whether it is known if there is a defect or parts missing in the machines and if so, we mention it to the buyer." Industrial Auctions convincingly claims transparency as one of its core values.
"There are few to no auction companies that are as specialized like us."
When I ask how Industrial Auctions has become one of the market leaders in the food and beverage industry, Ad explains: "Most auction companies operate in various branches of industry. We have chosen to focus purely on the food and beverage industry. This means that we have an enormous amount of knowledge of the machines in that specific area. In terms of marketing, we have also made very targeted efforts. I'm talking about millions in ten years, but purely on the food and beverage industry. As a result, we entered the market faster." When talking about Industrial Auctions' customers, Ad mentions reliability as one of the other core values of the company. Reliability is key in the contact with buyers and sellers and in the way of handling the auction. In great detail.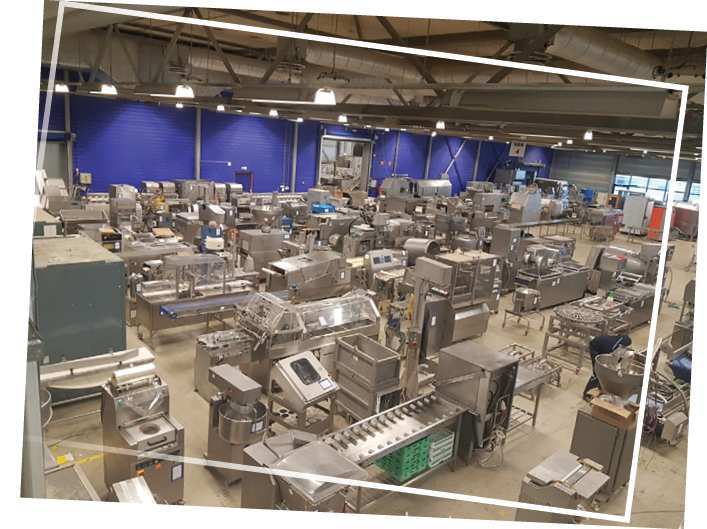 "We make the difference with the total concept. Where others say: the deal is done, we provide extra service. "
Ad explains how reliability, transparency and optimal service ensure that the company distinguishes itself from others. From the moment of purchase to delivery. After buying, Industrial Auctions is always helpful in finding a good partner for the disassembly of the purchased machines and offers free temporary storage at their location in Eindhoven. Ad: "This means that when a customer buys at various auctions in Europe, the purchased machines are collected here in Eindhoven. From here, all machines can then be loaded into the container. Instead of shipping a machine several times, transport needs to be arranged for the customer just once.
This is not only cheaper but also a lot more sustainable, of course." Industrial Auctions always has a forklift and experienced driver on site to help load the machines. "There are auction companies that do not offer customers that service after the auction. As if you say; you paid me, now you are on your own. If you, as a buyer, then have to load a machine on location and there is no forklift truck, you have got a problem," says Ad. "We don't experience those problems at all. We just ensure that a forklift is available and that our team is present to help with loading. That is an extra service we offer, in addition to the temporary storage." It proves that Industrial Auctions stands for a very personal approach. I ask Ad why that is so essential in the company culture. "Internal or external?" Ad asks. Both prove to be equally important to him. "It starts with internal. We have a team of people that really stands together, as a solid team. If there is work to be done, we work and if there is something to celebrate, we celebrate. We have an informal and sociable style and I believe that radiates outwards. In this way, we also radiate what I believe is key, coming back to transparency, openness, honesty and always looking for a solution. Although, that solution is not always satisfactory because it obviously goes without saying, I cannot have all the solutions for all tens of thousands of customers, but our starting point is that we always look for the best solution for everyone."
"Coincidence or not, we have never had as many auctions in the Netherlands as during the Corona crisis."
Obviously, the Corona crisis was also an unpleasant surprise for Industrial Auctions. However, business could continue as normal. The online auction company is so transparent that the buyer can arrange everything from behind his computer. Thanks to the detailed information, many and clear photos and accurate descriptions of the lots, the buyer has a clear picture of what he is buying.
Ad: "The world was in a state of panic for the first two weeks. After that, by chance or not, we have never had as many auctions in the Netherlands as during the crisis.
The Netherlands and Germany remained open to auction for us, but we noticed quite a bit of the consequences because England, Sweden, Poland, France and Spain were closed. Some moments we had to let staff members stay at home, but just for a short time. Fortunately, we were able to continue working. Main reason being the transports of machines could all continue. The borders have not been closed for that. "
Drinking whiskey before bidding.
When I lastly ask if Ad has a special memory of a customer or auction, he brings up a meeting with a buyer from Asia who he met at a food fair. "I had never met him before and he had just bought a machine at one of our auctions. He came to me at the stand and asked if I am Ad, the director." Ad agreed and asked the man if there was a problem. Ad quotes the following conversation between them: Man: "Yeah, a big problem. I bought that machine for way too much money. " Ad: "It wasn't me who pushed the button. You pushed it yourself." Man: "That's true Ad! But I drank far too much when I did that! But I did pay you." Ad continues with a smile: "When I returned from the fair I bought him a very good bottle of whiskey with a card that said: Next time when you are going to bid again, drink this bottle of whiskey". I ask Ad if the man has ever bought something through Industrial Auctions after that. "Oh yes! We have a great connection!"