At IPPE, Meyn launches Maestro Plus, a new solution for in-line automatic organ harvesting for a wide variety of line speeds and bird sizes.
For the poultry processing industry, labor is still a critical issue, with poultry consumption rising at a time when workers are hard to find. Meyn offers solutions like the world's best automated breast deboning machines, configure-to-order service contracts to eliminate unplanned downtime, and a new version of Meyn Connect software to optimize efficiency in poultry processing.
World premiere: Maestro Plus, music for organs
Meyn launches new Maestro Plus for fully automated in-line organ harvesting at high speeds. The record high yield of Maestro's evisceration technology combined with new organ harvesting modules have again resulted in a solution with the highest yield in the market. Minimum waste, maximum profit.
The new Maestro Plus eviscerator first transfers the viscera pack to an organ shackle, positioning it for veterinary inspection. The viscera pack then goes through the intestine and gall remover (IGR). Next, the liver harvester (LH) scrapes the liver from the gizzard to be cleaned in a drum washer and presented on a liver inspection belt. The remaining heart with lungs and gizzard is separated into two streams by the heart and gizzard separator (HGS); the first stream goes to the heart and lung separator and the second stream presents the gizzards for further processing, either manually or automatically. The launch of Maestro Plus follows over two years of testing in Europe, China and the US.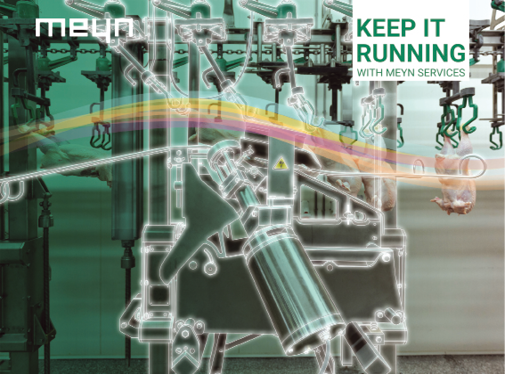 Keep it running
Retail & wholesale buyers want it all. And on time. Unplanned downtime never happens at a convenient moment. Meyn offers tailor-made service contracts that reduce downtime to a minimum, including training for technicians and operators, technical support, scheduled maintenance, parts safety stock, repair and equipment data analysis and even a full plant audit. All part of Meyn's configure-to-order service.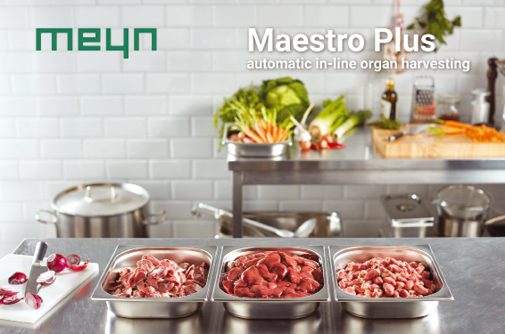 More news
During the IPPE show, Meyn will offer a schedule of frequent new product information sessions showcasing its advanced product line-up. Featured products include Meyn Connect's poultry processing performance software, a CO2 stunning system with a choice of continuous or batch stun, as well as the new Rapid Plus breast deboner M5.0 with its semi-automatic loading of front halves. Meyn welcomes all guests to their booth B5413 in building B of the Georgia World Congress Center.