Detectamet has introduced three new personal protection products that are metal and X-ray detectable and can be cleaned repeatedly and used for up to 3 months. The increased value for money and reduced environmental impact are attracting interest for these aprons, full length sleeve covers and three-quarter smocks.
They are ideal for use in the meat, fish and dairy processing industries where workers in some areas are exposed to high water usage and soiling.
The body and arm covers are dual detectable and have an anti-bacterial ingredient.
The Polyester material with its NBR-rubber coating is a waterproof, robust and durable material that is permanently flexible and washable.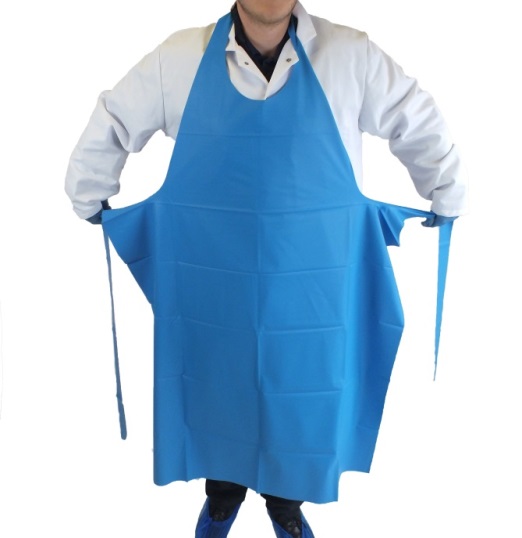 1.This dual detectable one piece apron provides excellent protection in tough work areas with an average useful life of three months.
2.Cleaned at up to 90°C (194°F) this tough, long sleeve cover is available in blue or white. It protects from soiling and helps to reduce the risk of product contamination
The dual detectable three-quarter smock fully covers front, sleeves shoulders and most of the back in a one-piece design. 
It is practicable in high or very low temperatures down to -85°F (-65°C) and can be machine washed at up to 194°F (90°C). Even under this vigorous regime these tough products have demonstrated their durability by lasting for an average of 3 months in regular use. They resist animal oils and fats, and can cope with strong detergents and acids and alkaline liquids making them well suited for use in challenging food production environments.
The standard colors are blue or white although the covers can be ordered from a range of special colors subject to minimum order quantities. They measure 36" (90 cm) wide and are supplied either 44" (110 cm) or 54" (135 cm) in length.
The dual detectable Sleeve Covers are 18" (45 cm) long as standard, but longer sleeve covers can be produced subject to minimum order quantities The elasticated wrist and shoulders give a firm but comfortable fit, and like the aprons these covers can be regularly cleaned at temperatures up to 194°F (90°C) to maintain a high level of hygiene.
The aprons, three-quarter smocks and the sleeve covers are highly durable so they can be re-used time and again without compromising hygiene levels. As a consequence these tough, dual detectable, antibacterial and practical products are very cost effective and less of a threat to the environment.