Ready-to-eat meats are now available as a fresh, frozen, par or fully cooked, slow cooked, pre-marinated, boneless, bone-in, formed or natural product. The popularity of these products has grown significantly in the last decade and is fuelled by consumers demanding convenience and retail and food outlets ready to provide it.
These time-saving alternatives enable home cooks and restaurants alike to create delicious meals in a fraction of the time spent previously. Available in numerous varieties, these products have become the cook's secret to replicating a gourmet home cooked or restaurant quality meal in minutes, rather than hours and it is this convenience factor that's driving the growth of this market.
A genuine impingement oven is the industry standard for manufacturers producing par and fully cooked ready-to-eat meats. A true impingement oven will use high velocity airflow above and below the belt that is distributed evenly across the width of the belt, and along the length of the oven.
This convection-style achieves even temperature across the belt, which is where many 'impingement ovens' fall short. Heat and Control's AirForce® impingement oven can cook dramatically faster than other comparable ovens through the use of technology that quickly and evenly transfers heat across the full width of the product conveyor. It has been proven to deliver faster cooking and greater uniformity than any other impingement oven and can cook your chosen meat product to precise specifications thanks to a patented moisture-controlled heating system which delivers higher yields and, uniform cooking across the width which means you don't over-cook the product on one side of the oven.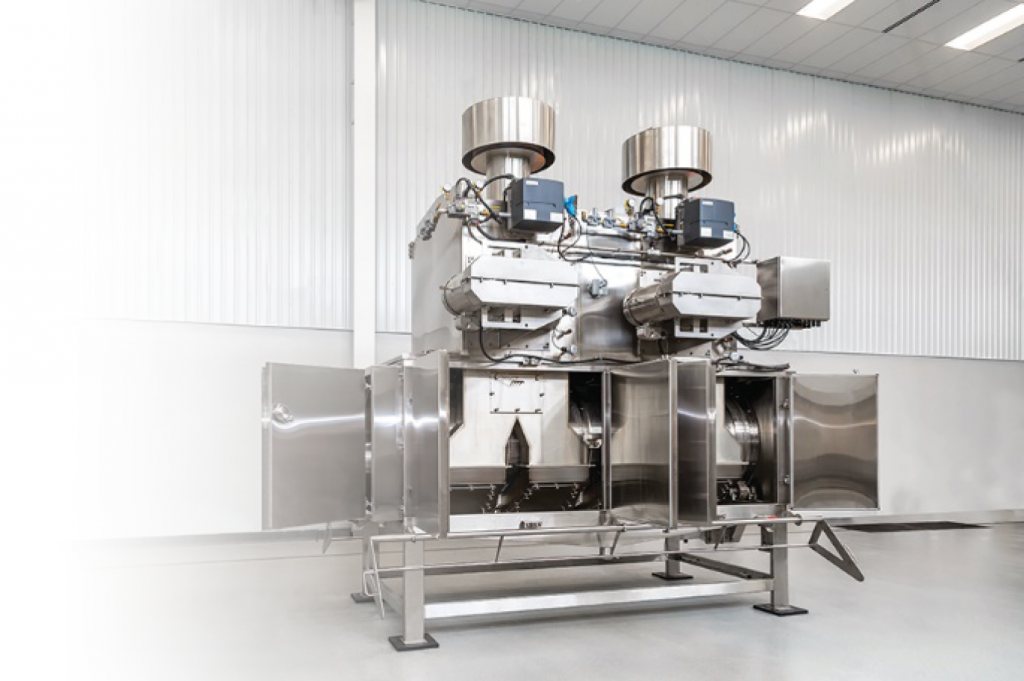 Meat snacks are also a product in the ready-to-eat segment that continues to gain popularity. Old favourites are being reinvented by manufacturers that are now targeting health conscious consumers with their marketing. Beef Jerky is one example of a product from this category that is a traditional favourite. This ready-to-eat meat snack is packed with many nutrients, protein and good fats. It's low carb and low sugar status makes it keto friendly which makes it a convenient snack that's catching the attention of health conscious consumers.
The Rotary Dryer Roaster (RDR) from Heat and Control can offer manufacturers of meat snacks the perfect roasting technology for a variety of meat snack preparations, such as meat jerky and meat chips. It offers operators complete control to dry or to roast, in a continuous, gentle and sanitary manner.
Through high volume convective airflow combined with gentle rotary motion, the RDR ensures all product is uniformly treated with heated air. Operators have full control over the roasting or drying process variables, enhancing the finished products' colour, flavour, and texture.
This design handles raw product in a continuous, high-density manner through a unique flighted drum that ensures positive motion and it's unique drum design facilitates continuous first-in-first-out product flow. Independent fans and burners in multiple convection zones provide complete process control which can be tailored to various products.
Correct processing, packaging and storage is vital to the food safety of ready-to-eat meat products and food processors should prioritise quality testing to safe guard both their brand and consumers. Food proccessors can ensure quality by using modern recipes, consistent processing and by partnering with a quality equipment manufacturer such as Heat and Control.
Turning your product ideas into reality, we work with you to understand your specific product objectives and ready-to-eat meat processes. We offer testing and trials on a range of equipment and can innovatively add value to your ready-to-eat meat operations. Contact us info@heatandcontrol.com to learn more or visit www.heatandcontrol.com 