UFM 300-6 – Universal Forming Machine
The universal shaping wizard
The UFM 300-6 is the universal solution for hamburger and dumpling production in combination with the REX filling machine. The modular structure enables a wide variety of products to be processed and shaped in a simple and economical way.
The new hamburger shaper is the optimal machine-based solution for producing hamburgers using the low-pressure process. The pneumatic form cutter cuts the portions. The portions are then pressed into perfect "home-made" burgers via the form belt with optimal dimensional stability. The water spraying unit prevents the product sticking to the blade or conveyor belts. An optional imprint roller can be mounted to the end of the conveyor belt.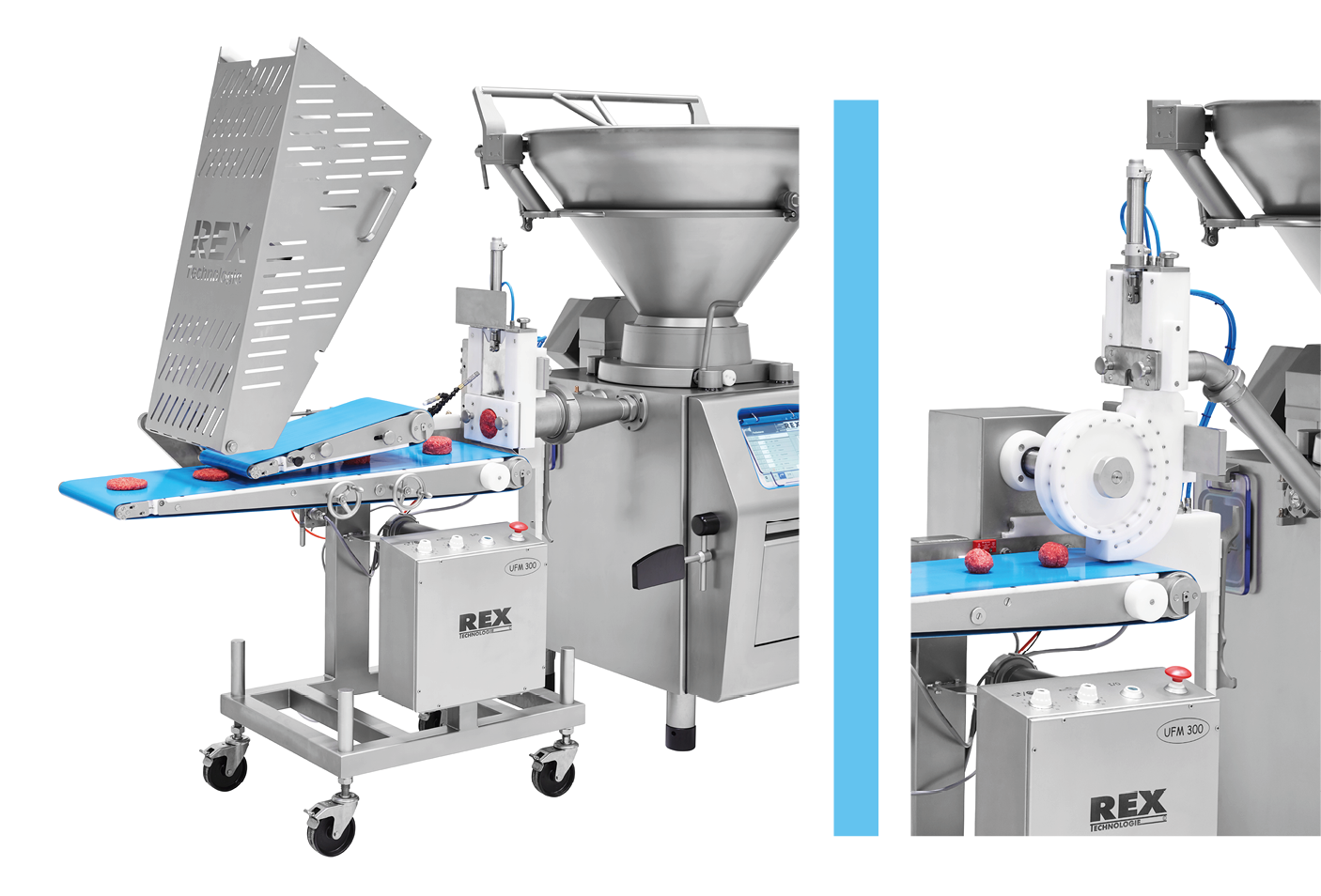 By converting the form cutter for dumpling production, the form roller is able to shape single rows of beautifully round dumplings. The form rollers are available in various diameters for a range of dumpling sizes. Beautifully round dumplings can be created from meat, potato, bread and various other food products.
Optional UV sterilisation for the FB 300 conveyor belt guarantees the highest possible level of bacterial eradication thus enhancing hygiene standards.
An attachment for producing ćevapčići is also available.
MC 3-3 and RHP 240 – Complete line solution
The REX mincer portion line range developed by REX is designed to meet all industrial requirements. The modular system is quickly and easily adapted to a customer's specific requirements. This makes the REX minced meat line a most cost-effective line solution, without compromising the product quality.
The final perforated disc in the MC 3-3 is adapted individually to the end customer's mould size. Product widths range from 60 to 220 mm with a very wide selection of final granulation grades. A special final perforated disc can be used to portion multiple rows of Cevapcici on paper, for example.
The precutting process is extremely important in the production of minced meat. The pre-cut charge is exactly portioned by the filling machine and then given its final granulation grade and product size in the meat filler mincer MC 3-3. The ability to adjust the drive speed of the filling mincer separately ensures a perfect cut.
The independent servo drive of the filling mincer, set and monitored via the touchscreen controls of the filling machine, makes it possible to adjust the cutting speed appropriate to the respective portion size. The minced meat portioner RHP 240 completes the line. It is linked to the filling machine and attached to the minced meat filling mincer MC 3-3. In that way, it conveys the processed product flow and cuts portions exactly to size, resulting in a very high level of product precision. The speed of the two independently operating conveyor belts can easily be adjusted to the product flow. 
Visit us on the IFFA 2022, Hall 8.0, stand D 80
www.rex-technologie.com