SEALPAC, the leading manufacturer of tray-sealing and thermoforming technology, will once again show its latest in packaging equipment and solutions at Interpack 2017, which runs from 4 to 10 May in Düsseldorf, Germany. At the SEALPAC stand C19 in hall 5, focus will be on solutions that address the trend towards skin packaging, as well as on traysealers and thermoformers that convince due to their output, flexibility and durability. With its PerfoLid system, a unique solution for fresh fruits and vegetables, the packaging specialist will this time also be represented at Innovationparc Packaging SAVE FOOD, stand IPP19.
TRAYSKIN® – NOW ALSO AVAILABLE FOR TWO-COMPARTMENT TRAYS
More freshness, improved quality and prolonged shelf life – those are the benefits for products packaged under vacuum with SEALPAC's TraySkin® system. In this process, the food products are packaged directly inside their tray with a highly transparent barrier skin film. The secure fixation of the product always ensures a perfect appearance, even if presented vertically (e.g. standing or hanging). A recent development concerns the use of two-compartment skin trays, where each compartment, for example containing single portions of meat, is sealed individually. Sealing takes place by means of SEALPAC's unique OnTrayCut system, which was specifically developed for skin applications. This guarantees an immaculate presentation at retail. During Interpack 2017, the German company will demonstrate its TraySkin® system on a SEALPAC A6 traysealer. This machine is ideal for medium-output applications that require highest flexibility, such as cold and hot filling, MAP or skin applications. Its unique tooling quick exchange system, common to all A-series traysealers, allows for fast changeovers to other packaging systems or tray sizes.
PERFOLID –SUSTAINABLE PACKAGING FOR FRESH FRUITS AND VEGETABLES
SEALPAC, together with its partners Naber Plastics and PerfoTec, will be presenting a true product innovation: PerfoLid. This breathable and recloseable packaging system, which is highlighted at Innovationparc Packaging SAVE FOOD, achieves an optimal shelf life, maximum freshness and therefore minimum food waste of fruits and vegetables. The system starts with controlled supply of oxygen by means of perforation of the top film, where the amount and size of the holes is perfectly tuned to the breathing pattern of the fresh produce. Furthermore, PerfoLid packaging under EMAP (Equilibrium Modified Atmosphere Packaging) consists of a tray with recloseable lid, produced according to the award-winning EasyLid® technology, already known to the food industry. Here, trays are equipped with a special perforated ring that is hermetically sealed with a top film. By opening the tray, a lid is automatically created that allows for multiple reclosing. The traditional step of lidding is no longer needed, making EasyLid®, and now also PerfoLid, a unique cost-, materials- and space-saving solution for fruits and vegetables.
SEALPAC A10 TRAYSEALER – MAINTENANCE-FREE DUE TO SERVO PLUS
With its A10, SEALPAC will be demonstrating a traysealer that is perfectly tuned to high-volume production lines that require maximum output. It easily handles all sealable materials and, either in single or double lane execution, fully automatically seals up to 160 trays per minute (depending on tray format and application). This makes the A10 an ideal solution for price-sensitive products, such as minced meat, where packaging performance is decisive for the overall price and therefore the competitiveness of the product. SEALPAC has now further optimized the drive concept of its high-performance traysealers by means of servo plus. This allows the SEALPAC A10, often the centre-piece of high-performance lines that run most of the day, to offer its users the highest degree of process security. The new servo drive does not contain any corrosive mechanical parts, such as a toothed belt or spindle, and is therefore particularly low in wear and tear. This leads to significantly longer maintenance cycles, hence saving time and money.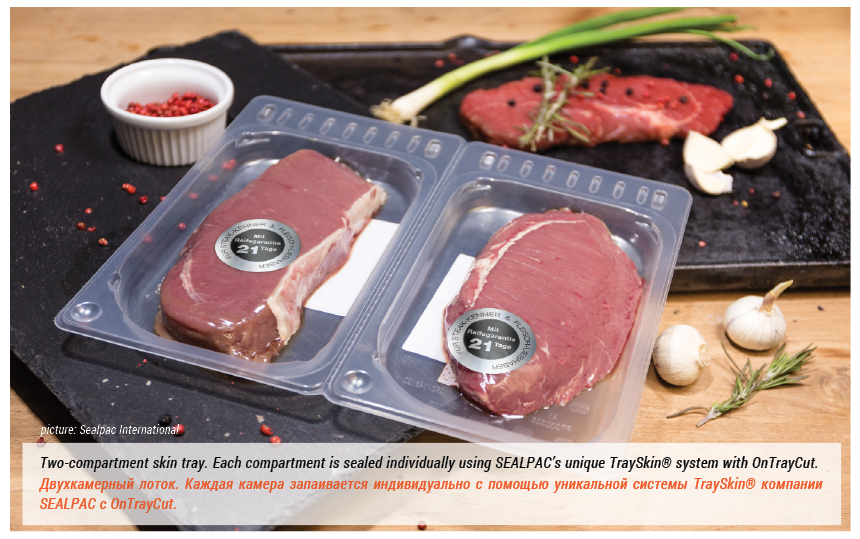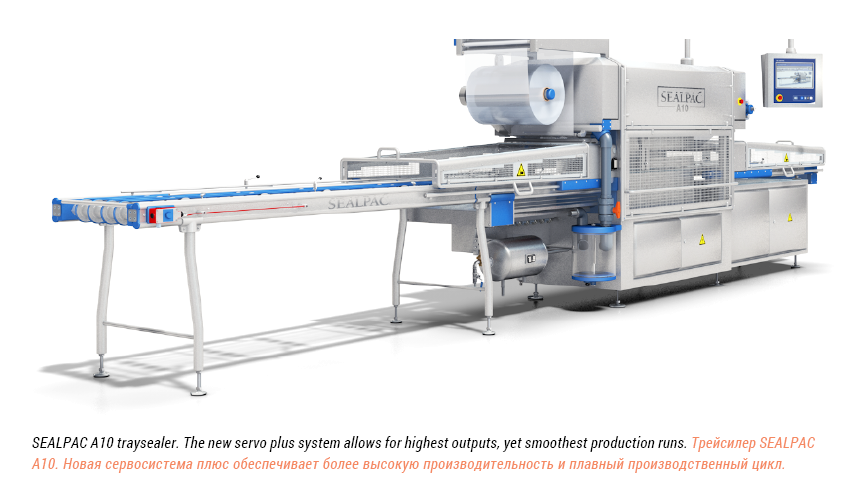 SEALPAC PRO14 THERMOFORMER – FLEXIBILITY IN THERMOFORMING
The all-in-one SEALPAC PRO14 thermoformer can handle a wide range of applications, such as cost-efficient flexible film vacuum packaging, rigid film modified atmosphere packaging, as well as shrink packaging. The optional quick exchange system from the side allows for easy product changes with minimum downtime. Combined with SEALPAC's energy-efficient Rapid Air Forming system, optimal forming consistency is achieved. This results in higher outputs due to shorter vacuum and ventilation times, as well as the possibility to use up to 10% thinner materials. At Interpack 2017, for the first time, the PRO14 will be presented with maintenance-free, servo-driven lifting systems, hence making your PRO-series thermoformer even more efficient.
SEALPAC at Interpack 2017: hall 5, stand C19. Also at Innovationparc Packaging SAVE FOOD, stand IPP19.