The world's largest annual food & beverage exhibition GULFOOD took place from February 26 to March 02 in Dubai, UAE. This year it has welcomed 5 000 manufacturers and more than 95 000 visitors from 120 countries all over the world. The large-scale B2B event that brings together professionals from the food industry and related activities has celebrated its 22nd edition.
During the exhibition, the Resource Group of Companies has presented An-Noor™ halal product line. It also became the only Russian company certified by the Emirates Authority for Standardization and Metrology (ESMA) and now has the right to sell its halal products in the Middle East countries.
On the GULFOOD opening day, deputy minister of agriculture of the Russian Federation Sergey Levin, deputy chairman of the Stavropol Territory Government Andrei Murga, consul-general of the Russian Federation in Dubai and the Northern Emirates Gocha Buachidze, president of the Stavropol Territory Chamber of Commerce Boris Obolenets and others became honorary guests of the Resource Group of Companies exhibition stand.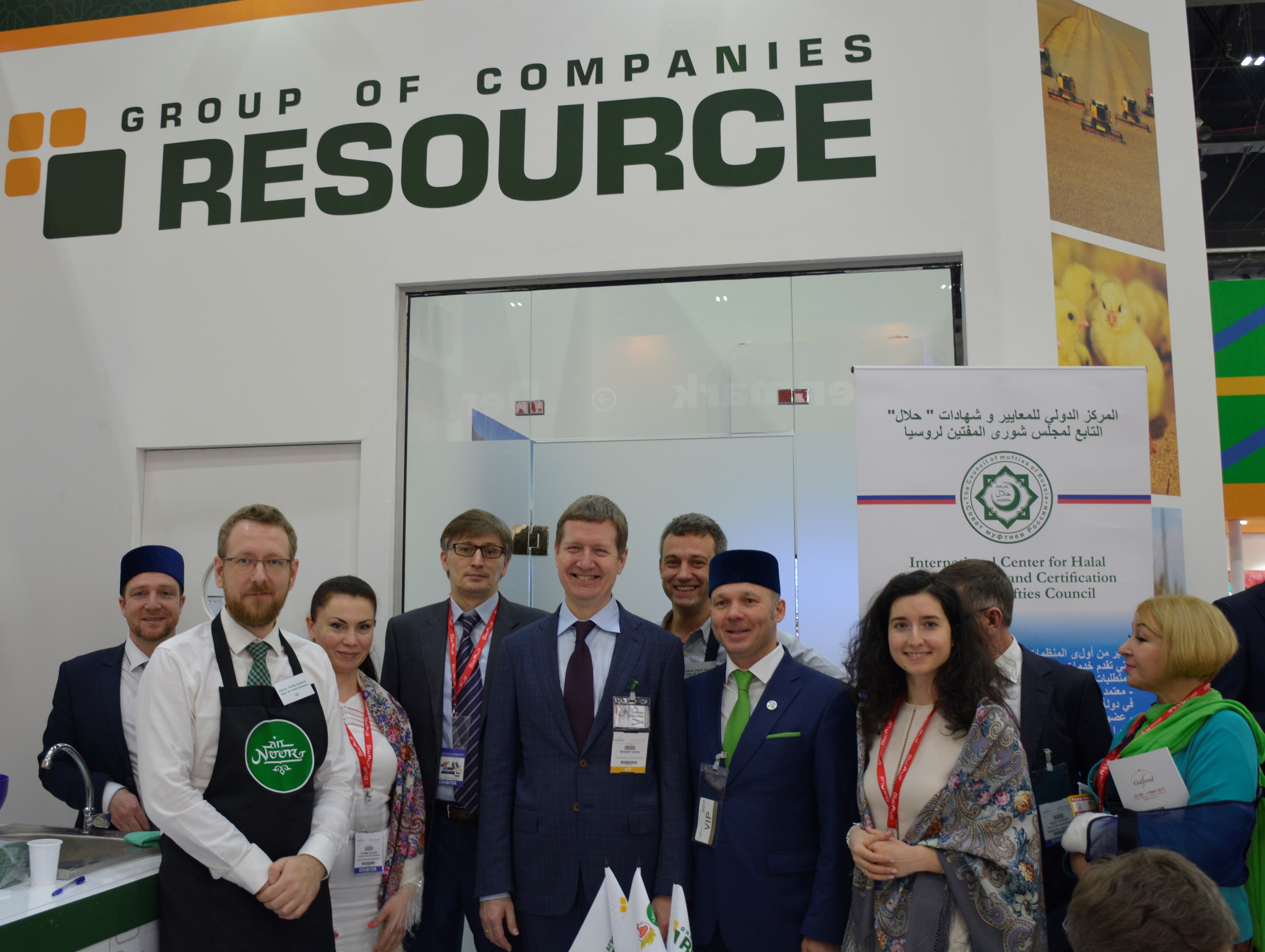 On February 27, representatives of the company took part in an international forum. During the event dedicated to the development of Halal industry around the world, the ceremony of presenting ESMA National Halal mark trophy was held. The head of ESMA, Dr. Rashid Ahmed Bin Fahad has conferred a reward on two poultry factories of the Resource Group.
The next item of the business program became the Eurasian Export Briefing. It was held on February 28 and gathered more than 150 representatives of Russian and foreign businesses, authorities and non-profit organizations. In his speech at the briefing, deputy minister of agriculture of the Russian Federation Sergey Levin spoke about the prospects of delivering Russian agricultural products to the markets of the Middle East and North Africa.
On March 1, the Resource Group of Companies presented its products at Russian Gastroweek organized by the Russian Export Center. According to the managers of the company, the format, including the B2B exchange of contacts and tasting, was quite interesting and promising for further participation in similar presentations.
Eventful program also included a large number of meetings and negotiations with existing and potential partners of the company. True halal tasty and better-for-you products of the Resource Group of Companies have suited all the visitors' tastes. The contacts and preliminary agreements established at Gulfood-2017 will allow the company to continue to increase export volumes and expand the geography of the company's presence in the Middle East, as well as other countries in Asia and Africa, for which the UAE acts as a transit hub.