On September 21st, Hiperbaric, the global leader of High Pressure Processing (HPP) equipment for the food and beverage industry, will organize a free webinar title 'Scaling your Ready-to-Eat products using High Pressure Processing (HPP) technology'. If you want to know what benefits this technology adds to RTE products, don't miss it!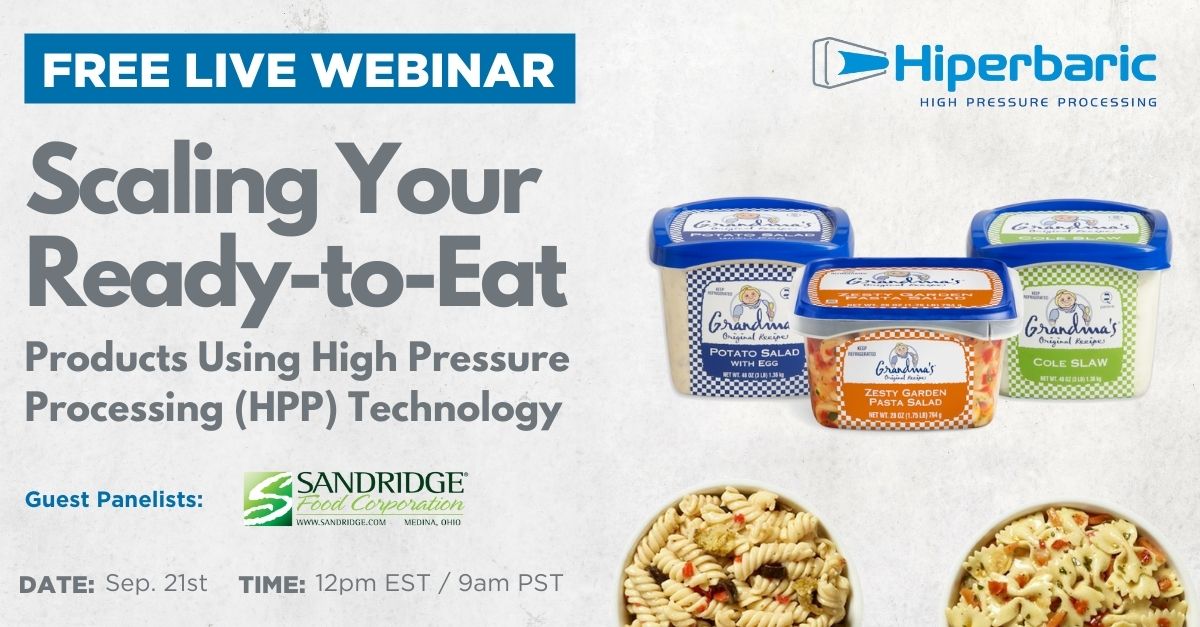 An increasing number of consumers are relying on Ready-to-Eat (RTE) products because of their busy schedules. However, RTE products are often associated with being heavily processed and of poor nutritional quality due to their high content in salt, saturated fat and sugar. Despite efforts made by the food industry, the presence of foodborne pathogens, like Listeria monocytogenes, are also a concern in RTE products.
High-Pressure Processing (HPP) is a non-thermal food preservation technology that can be applied in different RTE products, such as meat and seafood meals, cold and hot soups, vegetable purees, wet salads, rice, pasta and legumes, by offering:
Minimal Processing and Extended Shelf-life products
HPP allows to prepare products like the ones made at home with a shelf-life between 2 and 8 times longer, without chemical preservatives. The result are tastier, healthier and like fresh homemade products.
Healthy, Easy and Quick meals
HPP ready-to-eat are convenient and healthy products. The range of packaging to use is wide, including microwaveable.
Guarantee of Food Safety and Nutritional Excellence
HPP preserves nutritional and bioactive components in food. At the same time, it prevents spoilage and avoids food poisoning and food-borne diseases as listeriosis and salmonellosis.
Hiperbaric invites you to register for its last free webinar 'Scaling your Ready-to-Eat products using High Pressure Processing (HPP) technology' to discover the contribution of HPP to RTE products in terms of food safety, healthy and shelf-life extension. Also, you will know about microorganism control for food safety and shelf life extension of fruit & veggie blends, as well as, the success stories of Sandridge Food Corporation, US-based HPP manufacturer.
The webinar have organized for next September 21 and that will take place at 9AM PST / 12PM EST. Don't miss the opportunity and register here.