Marel's brand new Convenience Food Line is designed to create attractive, high-value end products, without compromising on today's strict food safety standards. Poultry processors who are willing to invest in these latest technologies in further processing can experience how the creation of a wide variety of tasty products adds enormous value to their production process.
Marel's new, complete 700 mm Convenience Food Line would typically feature the RevoPortioner, Active Batter Applicator, Active Batter Mixer and finally the brand new RevoBreader (flatbed plus drum). Such a convenience line can create a wide variety of tasty added value products. A major asset is its high flexibility, as the line configuration is not fixed. It is easy to have a particular set up for e.g. home-style chicken wing coating (with RevoBreader's drum option) and change the configuration after one or more production days, giving the RevoBreader another role and another position, e.g. flatbed coating for chicken schnitzels.

Convenience products of the highest quality
The production of convenience food starts with Marel's renowned RevoPortioner, featuring the new Helix Drum. RevoPortioner performs an automated task which can hardly be done by human labor. It produces perfectly portioned products at low pressure while retaining the texture and structure of the raw material. RevoPortioner enables processors to produce the widest possible range of natural looking, 3D convenience products, always with the same shape, weight and size and of uniform quality, exactly according to customers' wishes. The patented Helix Drum will ensure low pressure forming with continuous filling. The pressure of the meat pump is more consistent, resulting in a constant flow of meat.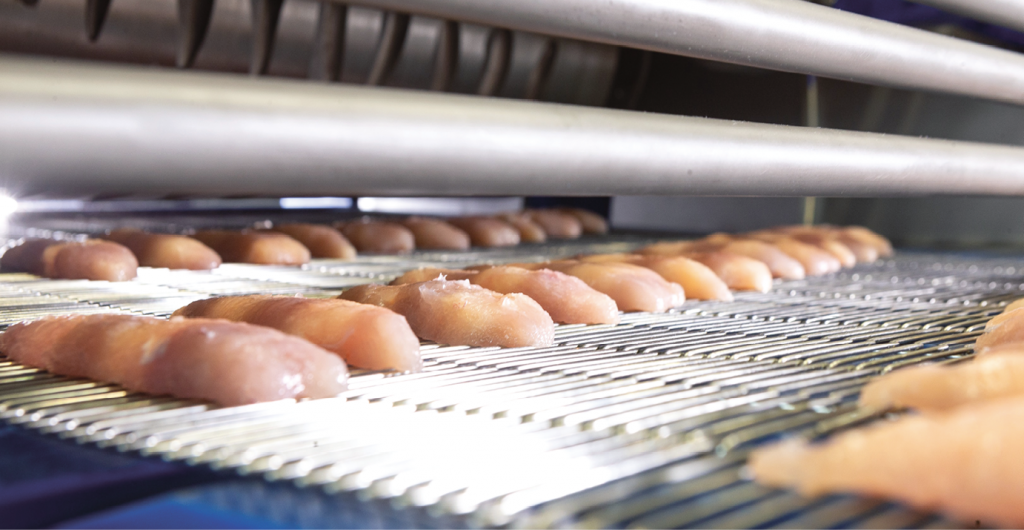 Better batter
The Active Batter Applicator moisturizes a wide range of products with egg white, batter or other suitable immersing agents. The bottom of the product goes through a bath filled with batter, while batter curtains wet the product on the top and the sides. Together, these techniques ensure perfect top and bottom coverage, even when thick batters are applied. Marel's Active Batter Applicator is able to handle high speeds, thereby improving pick-up control, which results in higher quality products.
RevoBreader
After having passed the BatterMixer, the products enter the brand new RevoBreader, the final stage of the new convenience line. It is a flexible machine that offers a flatbed mode and drum mode in one enclosure. This dual-mode configurability is the ultimate solution for applying high-quality coating, both to home-style and flatbed coated products. Switching from one position to another is easy; it doesn't require the removal of any machine parts and it takes less than two minutes.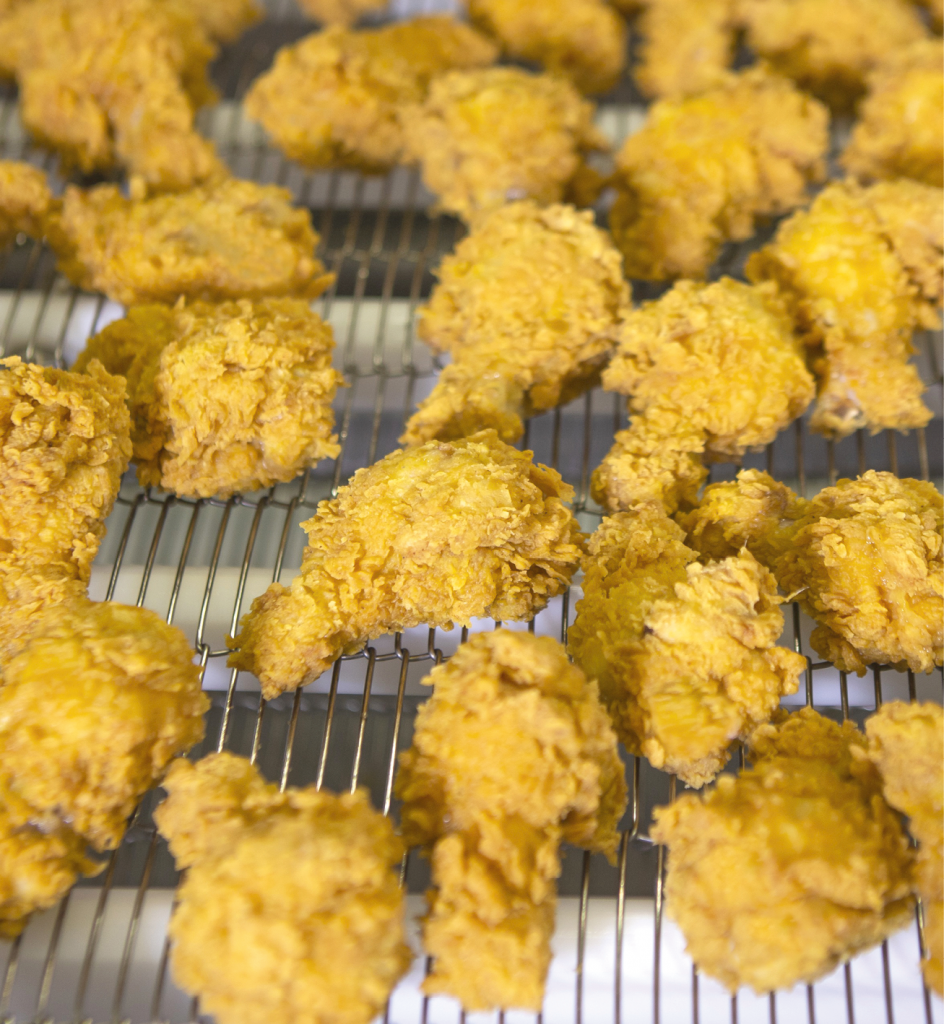 Flatbed and drum
In flatbed position, RevoBreader guides the products through a bottom bed of crumb, while covering the top layer with crumb gently falling on the product. This results in high quality, uniformly coated products.
In drum position, a high pickup of crumb and optimum home-style coverage all over the product is guaranteed, as well as high retention of crumb to the product during the frying process. This is ideal for coating of bone-in products. In a QSR 'home-style' production run, the drum of the RevoBreader completes the coating process. The result is a home-style crumb with a 'handmade' look, a breading with a highly attractive appearance, perfectly suited for sale in QSR restaurants.
By gently handling the crumb, RevoBreader guarantees minimum crumb breakdown. Once products have been coated, excess crumb is removed firstly by a vibrating mechanism and secondly by air knives. Excess crumb is carefully transported back into the machine for reuse.
Traceability
The Convenience Food Line is backed by Innova Food Processing Software, which includes several new useful tools for further processing. By controlling and monitoring the recipes and production, Innova ensures that the end product aligns with the customers' orders.
Innova's full traceability program provides the customer with an overview of the raw materials' journey through the processing plant. As a part of this, the traceability engine records every process step in the convenience line.
Together with the Recipe Manager tool, it is easy to track systematically what has been made, when, where and by whom.
"The creation of a wide variety of tasty products adds enormous value to the production process".