HPP Research Awards to Recognize Scientific Contributions of Young Researchers to the Field of High Pressure Processing
The awards, organized by Hiperbaric, will reward the best research in the categories of Human and Animal HPP Nutrition; Food Safety and Shelf Life Extension; and Sustainability and New Products.
Endowed with more than 3,000 euros, they will serve as a showcase to disseminate scientific projects on HPP that add value to research and the food industry.
The second edition of HPP Innovation Week will be held in June and will focus on the impact of high pressures on sustainability.
Hiperbaric, the world's leading high-pressure technology company, is announcing the HPP Research Awards to recognize the contributions of young researchers to the field of High Pressure Processing (HPP) for food. This is the first time that these awards are held, within the context of the second edition of HPP Innovation Week, the reference event on HPP for the food industry, which will take place on June 21, 22 and 23.
The awards will acknowledge the best projects and communications in different research areas: Human and Animal HPP Nutrition; Food Safety and Shelf Life Extension and Sustainability and New Products. They are open to undergraduate and graduate students, postdoctoral researchers and young professionals, with a graduation date between 2018 and 2022, who have published applied research on HPP. A total of more than €3,000 will be distributed among the different award category winners.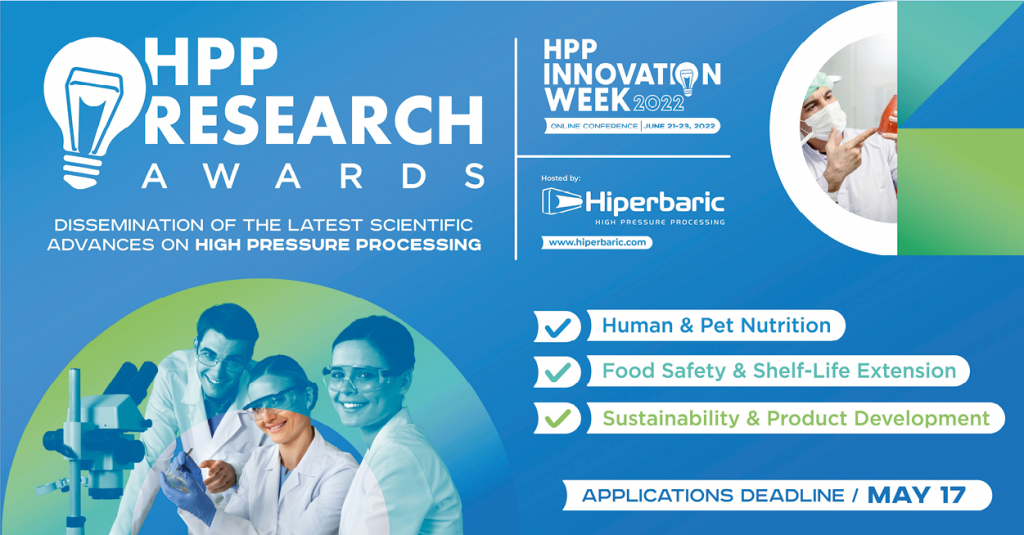 Hiperbaric wants to actively contribute to the dissemination of the latest scientific advances on High Pressure Processing (HPP). Andrés Hernando, CEO of Hiperbaric, specifies that the HPP Research Awards will provide the food industry with valuable knowledge that enables the adoption of HPP technology for the development of highly nutritious and safe food products.
Projects can be submitted online until May 17, 2022. The finalists will be announced and the awards ceremony will take place during the 2nd Innovation Week in June. The rules of these awards can be consulted on the event's website: https://www.hiperbaric.com/hpp-innovation-week/

Second edition of HPP Innovation Week focused on Sustainability
HPP Innovation Week, the online event on food preservation technology by high hydrostatic pressure, will be held for the second consecutive year and will take place from June 21 to 23. The virtual event will be a reference point to demonstrate how HPP has a significant impact on the safety and quality of food and beverages, while providing a forum for the dissemination of technology to promote innovation in the food sector. It will also allow for networking and collaboration among experts.
The three-day HPP Innovation Week program will focus on topics related to nutrition and sensory quality of HPP products; food safety and shelf life extension of HPP-treated foods, as well as the sustainability benefits of HPP, such as the circular economy, food waste reduction and Hiperbaric's new projects to reduce its carbon footprint.
HPP Innovation Week's broad and comprehensive agenda will feature more than 20 presentations, including video roundtables, one-on-one keynotes, exclusive interviews, live chats with technology experts and demonstrations at Hiperbaric's pilot plants at its facilities in Spain and the United States. It will bring together manufacturers and marketers, tollers, technology users, academic and regulatory leaders and HPP suppliers. The first HPP Innovation Week brought together 2,000 online attendees from 60 countries.
Registration for HPP Innovation Week is free and all Innovation Week content and videos will be available to registrants. Registration can be done through the link www.hiperbaric.com.
www.hiperbaric.com