The best raw materials, a clever blend of spices and high-quality processing machines, plus experience and craftsmanship: the recipe for first-class meat products and vegetable protein products. And a further essential ingredient in food processing: hygiene.
K+G Wetter manufactures bowl cutters, grinders and mixers for butcher trade and industry – with innovative ideas for immaculate hygiene in daily work at the company. An investment that pays off: a safe and time-saving method every time you clean.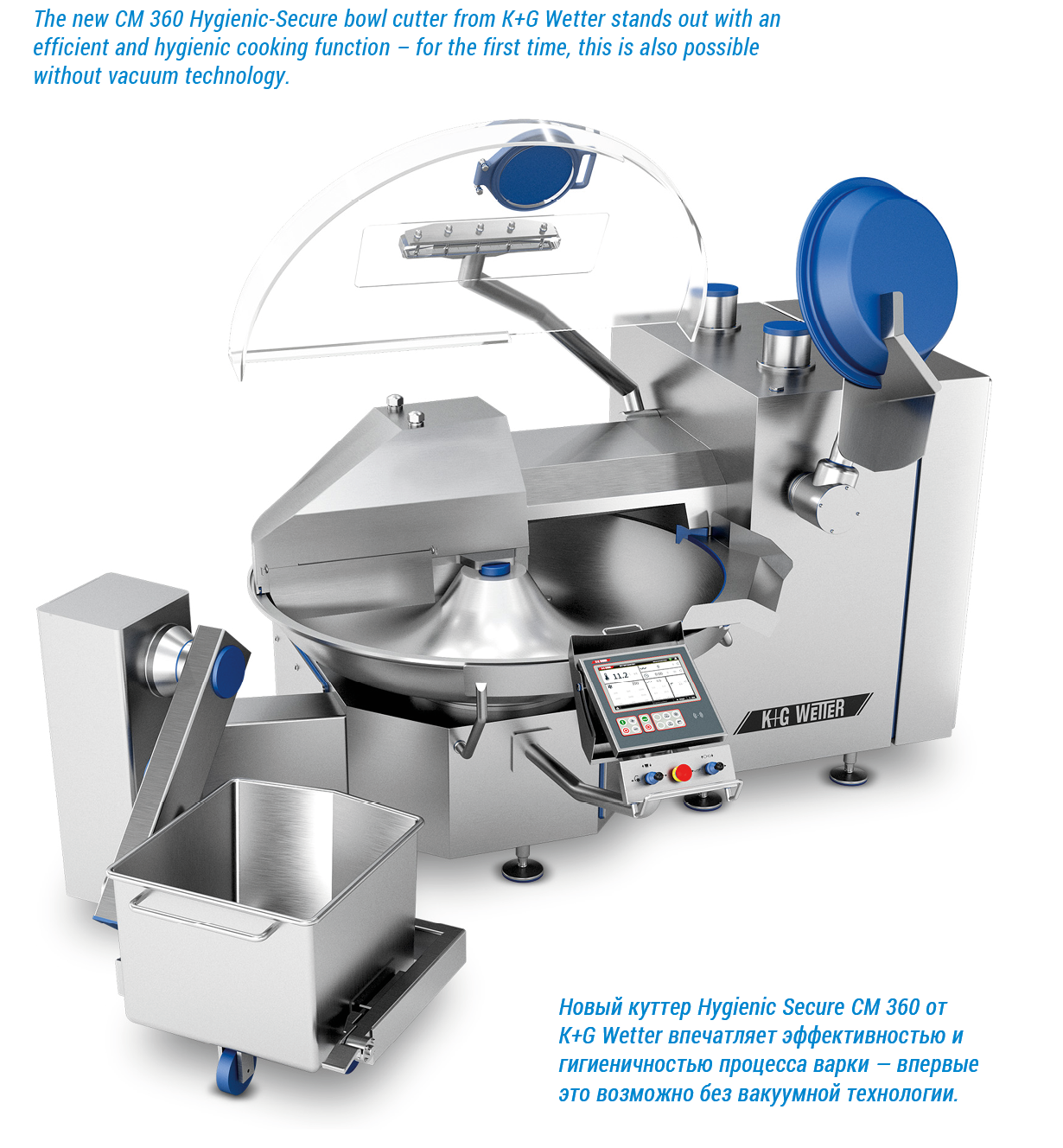 Hygiene as the heart of food processing is the focus of the Hygienic-Secure bowl cutter series: hand-polished, sloping stainless steel surfaces allow cleaning agents to run off without forming puddles, large flaps on the vacuum bowl cutters allow easy access to the kettle chamber with the cleaning lance and a reliable visual hygiene inspection. Components such as knife cover strips, bowl scrapers or bowl support pad can be easily removed for cleaning and then reinstalled. Small details with a big effect, because there are no more hidden corners where deposits could form. K+G Wetter eliminates the need for a seal in the area between the cutter bowl and the vacuum kettle, which is susceptible to contamination and cannot be cleaned hygienically. This eliminates a part of the hygienically particularly sensitive machine area that would otherwise be almost impossible to clean. And even the smallest details of the bowl cutters, such as the silencer and vacuum piping, are so well thought-out that deposits and germs don't stand a chance.
K+G Wetter's new development is open cooking cutters with the successful Hygienic-Secure features. The unique solution for particularly hygienic and energy-saving cooking without a vacuum cutter is a double-walled cooking bowl. The steam in the closed systems remains completely separate from the processed product, which saves energy and guarantees one hundred percent hygienic safety here: there is no risk of contamination from the steam.
A hygiene highlight of the K+G Wetter grinders and mixers is the flushing chamber installed as standard in all machines for cleaning behind the seal of the worm drive. Behind grinding worms this would indicate that it could happen to all grinders. Here, tiny particles can push through and accumulate due to the high pressure while grinding. Normally, the interior of the machine is not accessible for cleaning. The flushing chamber solves the problem of possible deposits by flushing them out easily and safely via a hose connected from the outside. Germs don't stand a chance, and a defective seal can be replaced without time pressure.
The cutting set as well as the optionally available sorting device for the K+G Wetter grinders can be removed in just a few steps and then cleaned hygienically very easily and quickly. The components are just as quickly put back together and ready to be used for the production of the next batch. This minimises cleaning and set-up times and ensures greater efficiency in the production process.
www.kgwetter.de