Mimasa is proud to announce to the Russian market that it will be represented and distributed by the company Grasselli NFS, which was established in Moscow, Russia in 2014 in partnership with its Italian parent company Grasselli SPA.
Grasselli NFS has a large experience in selling food equipment (slicing and portioning machinery for fresh meat – beef, pork, chicken, turkey and also skinners) and is renowned in the Russian market for its high quality and strong relationship with customers and collaborators. Grasselli NFS has also technical service and a stock of spare parts in Moscow for the partners. You can get more info on a website – www.grassellinfs.ru. Mimasa, who was already present in the Russian market for years, believes this step will turn into more successful cooperation and service to its customers.
With thousands of washing and hygiene solutions in operation globally, Mimasa is an industry leader specialized in advanced custom-made washing solutions for the food processing, food distribution and pharmaceutical industries. Mimasa has built its well-deserved reputation on the principles of quality, innovation, automation, and custom design. Founded in 1986 Mimasa has been designing and implementing washing and drying systems for crates, pallets, bins, vats, moulds, trolleys, racks.
Mimasa was acquired by COZZINIPRIMEdge in 2015. Combined with COZZINIPRIMEdge, MIMASA has the technologies, innovation, and outstanding service to solve and support your washing and hygiene needs.
Crate washers
Within the wide range of washing tunnels that Mimasa offers, we firstly find the washing of crates and containers in medium to high processing plants. Mimasa offers modular design and tailor-made solutions to respond to any need for specific cleaning that each customer may require.
Crate washing machines vary from low capacities like 200 crates/hour up to 10.000 crates/hour, double-lane and automations could be configured. Starting from there, the machine can be designed for the washing of different shapes whether standards or not, wash mixed crates in heights, classified by format, or by adding special widths for the washing of pallets, specific modules for removal of labels on the sides, as well as drying systems, etc.
In all cases, Mimasa guarantees quality washing results while looking for an optimization in the consumption of water, energy and chemicals.
Highlights:
Low maintenance: Improved design to reduce cleaning and maintenance costs.
Hygienic design: Machine adapted to today's high standards of quality and design.
Drying: blow-off drying modules or spin-drying units are optional.
Versatility: Custom-made washers for crates & pallets, crates & trays, etc.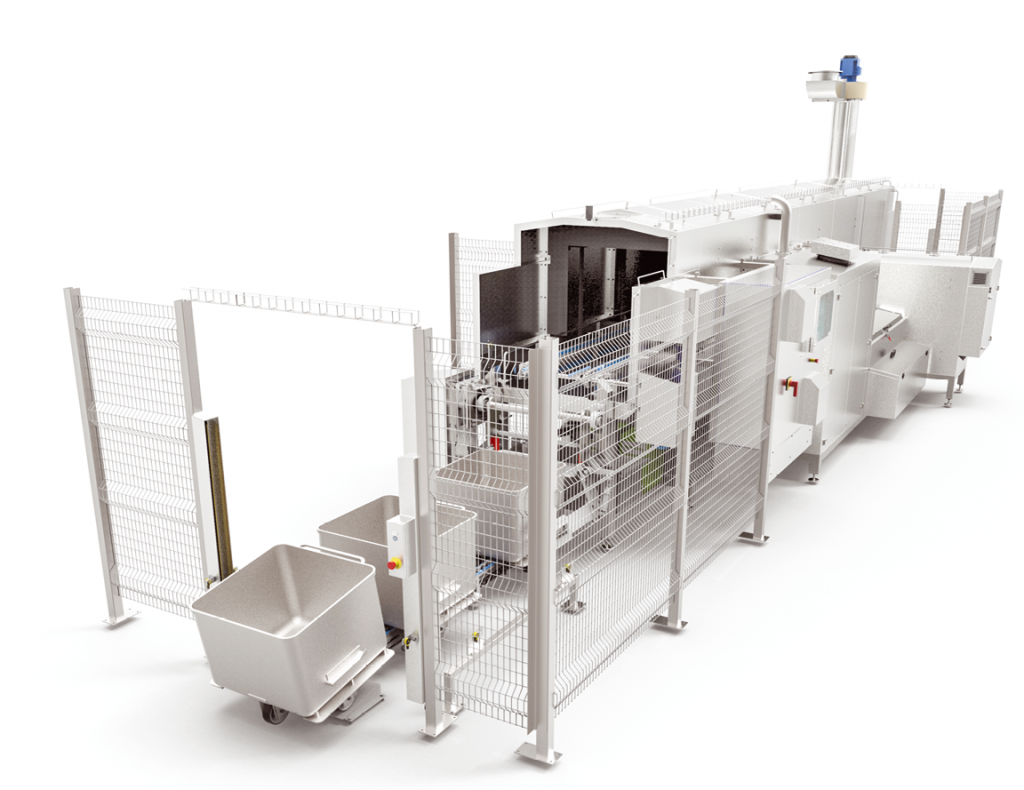 Knife and mesh glove sanitizers
Mimasa is currently the only manufacturer of machinery capable to perfectly sanitizing knives and mesh gloves in a short period of time. Moreover, it does so with a family of equipment adapted to the different needs and specificities of each customer. The machines we present below have already been in operation for years in leading establishments in the meat industry world. The K and KH Series are versatile and allow not only the washing of knives and gloves, but also their correct disinfection by means of a thermal shower. All this with a hygienic finish, tank and cabinet with lagging, and easy access for cleaning.
Highlights:
Perfectly clean: Guarantees a total removal of fresh meat remains.
Short times: Washing and sanitizing in less than 10min. Perfect for short breaks.
Food Safety: High hygienic standards and HACCP data recording and monitoring.
Versatility: Machines adapted to wash not only knife baskets and mesh gloves but also aprons, cutting boards, Sharpening tools, etc.
Bins and Eurobins
One of the most found parts in sausage and meat processing factories is the stainless-steel 200&300L trolley, more commonly known as Eurobins. Cleaning this material has always been particularly complicated, due to its geometry, the type of dirt it can contain and its strict cleaning requirements.
MIMASA has developed the full range for washing Eurobins to meet the most diverse demands of our customers. Washing cabinets, double cabinets with accumulation system, continuous tunnels of different capacities with accumulation systems and automatic loading/unloading, mean that Mimasa fully satisfies the market's demand.
In addition, you could not only wash Eurobins, but include the 1000L plastic bin to the scope of the project. So, a combination of bin and Eurobin washer is always possible in Mimasa.
Bin washing ranges from low capacity cabinet washers, up to fully automatic high capacity tunnel washers.
Highlights:
Easy cleaning: Tanks designed for an easy inspection, access, and cleaning.
High-performing filtering systems: a combination of screw and rotary filters ensure a better cleaning quality.
CE Standards: Machines fulfilling CE standards, especially for staff safety.
Functionality: Automations including easy interface and possibility for multiple wash programs.