Machines from K+G Wetter impress with their application-oriented and technically sophisticated solutions. For instance, the design of the U 200 mixer grinder completely separates the mixer section form the grinder section. This process is officially protected by the Deutsche Patent und Markenamt (German Patent and Trade Mark Office).
This process prevents the formation of so-called "dead spaces" during mixing. In mixer grinders the mixture normally enters the transfer zone to the meat worm before being fully and reliably mixed. This area is not accessible to mixing devices. Part of the batch is therefore able to enter the "dead space", where it is then ground in an unmixed state. Depending upon the size of the mixer grinder this may amount to many kilogrammes of material.
K+G Wetter experts analysed the problem and fundamentally reconsidered the design of the mixer grinder. The result of the underlying innovation is complete separation between the mixing hopper and the transfer zone to the grinder unit. This zone is completely sealed with a lid during the loading and mixing process.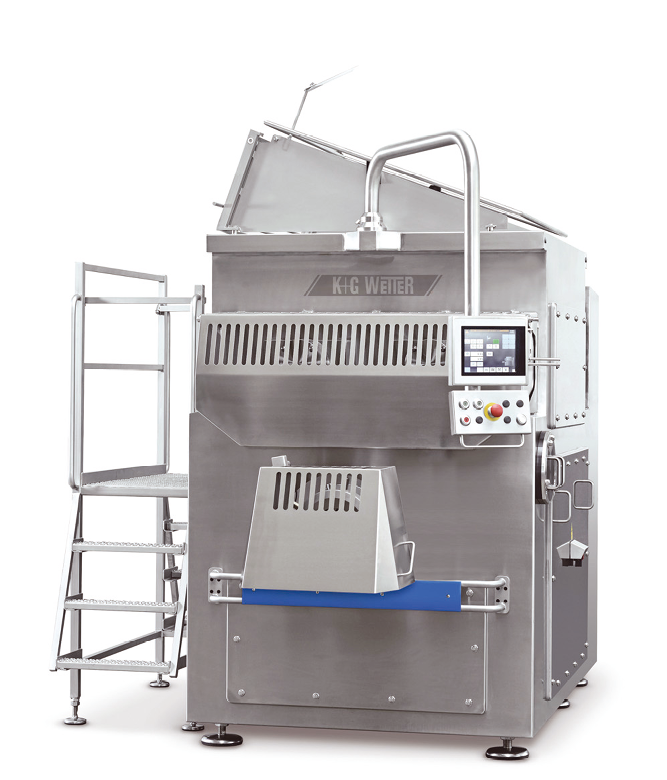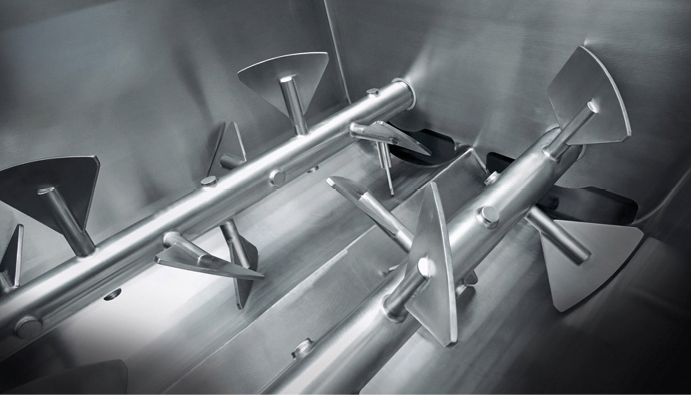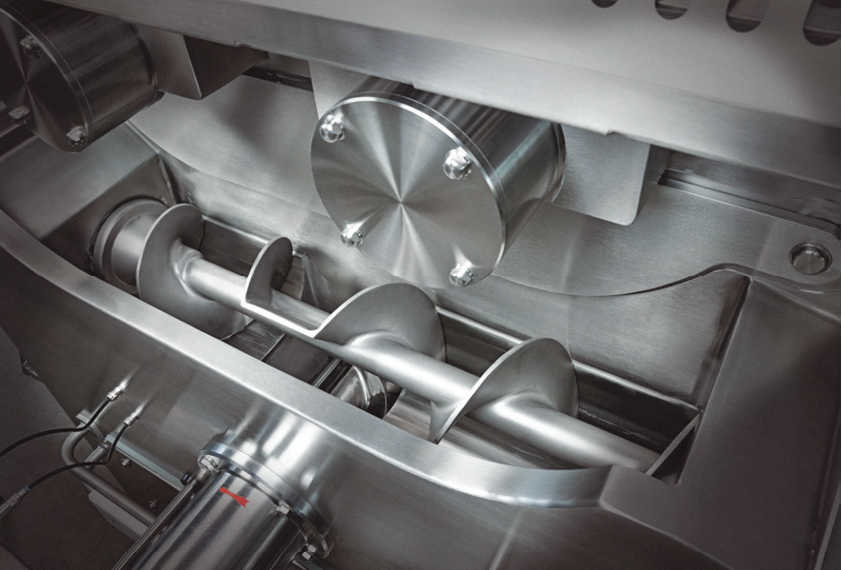 The use of two separately controllable mixing paddles achieves a gentle, but highly intensive mixing process that is otherwise only possible using mixers. A higher degree of process reliability results – and the material does not become contaminated through handling, interim storage or re-loading.
Raw materials are protected
The mixing process is particularly gentle and intensive. Material is transferred to the meat worm via a feeder worm that has been developed specifically for this mixer grinder. Sensitive raw materials can, therefore, also be easily processed. The U 200 mixer grinder from K+G Wetter is suitable for many applications, in particular where excellent and uniform mixing results are demanded. When used for standardised applications, such as burgers, raw sausage products, kebabs etc., the MW 200 really shines through.
Reproducibility of results is ensured by the 'CutControl' recipe management software, which allows stored mixing processes to be retrieved. Easy cleanability of all machine parts delivers huge time savings and also offers additional levels of safety and hygiene.
A pivoting touch screen facilitates flexible and intuitive machine operation. Like all machines from K+G Wetter, the U 200 mixer grinder also impresses with its flexibility: it can be fitted with a wide variety of extras such as water dosing, CO2 cooling etc., which allows it to be tailored to individual requirements. The closed mixing hopper now even facilitates applications that mixer grinders were previously not capable of. For example, loss-free addition of liquid ingredients or massaging muscle fibre using brine. It is, of course, also easy to integrate these machines into production lines.