MPS Food Logistic Systems introduces the newest generation of automated collecting, freezing and sorting: Nova Zembla.
The new concept is an innovated method to achieve the lowest possible operational costs in preparing deep frozen products. Using a specially developed freeze warehouse management system every single product will have its optimized freezing path. Nova Zembla sets a new standard in deep freezing and warehouse automation.
Nova Zembla is the perfect solution for:
Freezing direct in line with production at red meat and poultry plants
Minimizing drip loss
Optimizing shelf life and product quality
Organizing chaotic production flow and prepare for automated palletizing
Improved control over stock and FIFO delivery
Lowering operational costs
Better working ergonomics and reduced number of FTEs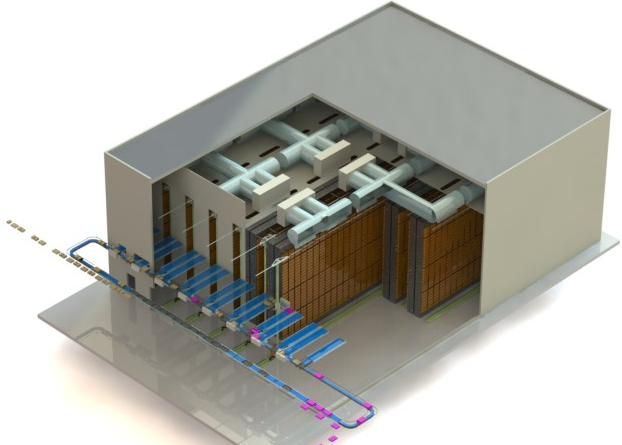 Superior freezing conditions
The combined logistic and cooling technique is revolutionary in the field of cold storage process automation. It is based on the proven performance of the well-known Meat Mover mini load technology. This combined with cooling know-how of Verhoef Consultancy.
In the Nova Zembla concept, every box is handled in an individual way. This insures minimal cooling time and no additional cooling energy is put in the product. To ensure optimal  operation, remote access and reporting is standard delivered with the system.
The Project
The Nova Zembla project integrates the logistic and cooling technique. Using the best of both worlds in a smart way, using high efficient components, an efficient and effective solution is born.
Inducing Airflow
The airflow is induced by nozzles which will generate an airflow which is much higher than the airflow generated by the fans only. By defining the airflow every single product will have its optimized freezing path.
Sorting In and Out
The occupation of the storage area is controlled by the warehouse management system. Product in-feed is sorted to have the most efficient freezing path. Out-feed is sorted to have the best performance in your palletizing area.
Cost efficient
By combining the collecting, sorting and freezing function a minimal floor space is needed. The optimized time inside the freezer insures an efficient use of cooling energy. Combined with the integrated control for both cooling and ware house management, this is the most cost effective solution available in the market.
Modular design
The project can be adjusted to your specific needs, to the available space and building restrictions. Storage capacity and system dynamics can be made to fit your requirements. Our smart control software can switch on or off segments to even further reduce energy costs.
Out of the box
Nova Zembla shows our ability to think out of the box and at the same time stay with both feet on the ground. Revolutionary ideas combined with proven technology and performance. Simple, smart and comprehensive solutions. Taking your chaotic production flow and arranging your expedition.