IFFA organizers described this year's fair, after more than two years of the pandemic, as "successful and emotional." And indeed, it was undoubtedly a fantastic experience filled with networking, innovations, and business. This year's IFFA show had the theme "Technology for meat and alternative proteins," with 860 exhibitors that presented innovations for sustainable and efficient production and packaging of meat and alternative proteins.
Hot Topics at IFFA
For six days, visitors crowded the JBT stand showing a lot of interest in their solutions. They also had a lot of different topics they wanted to discuss, wanting to know more about where JBT could support and add value to their business. People came to grow their knowledge using JBT's food processing experts! Some topics and interests were more frequent than others, and JBT could detect a strong trend toward automation, food safety, and the need for a full-service partner. Below they present some of the insights they gained at IFFA 2022.
Labor issues and efficiency fuel the interest in automation
Shortage of labor is one of the issues driving the growing interest in automating processes within the food processing industry. Consequently, many visitors were interested in knowing more about JBT's solutions. Automating lines and processes, especially those demanding less people in operation, have always been of significant interest. Labor is increasingly scarce, in addition to other issues such as labor legislation, safety at work, and ergonomics, among others, which in one way or another end up increasing more and more labor costs. Another reason for creating automated solutions is to make processes faster and more hygienic by decreasing operators' interactions with production variances. Automated solutions of interest were, for example, solutions for inline processing and transport between machines, product management systems for loading, unloading, clipping, sorting, and packing, and interconnected equipment and optimization and self-adjustment through data acquisition.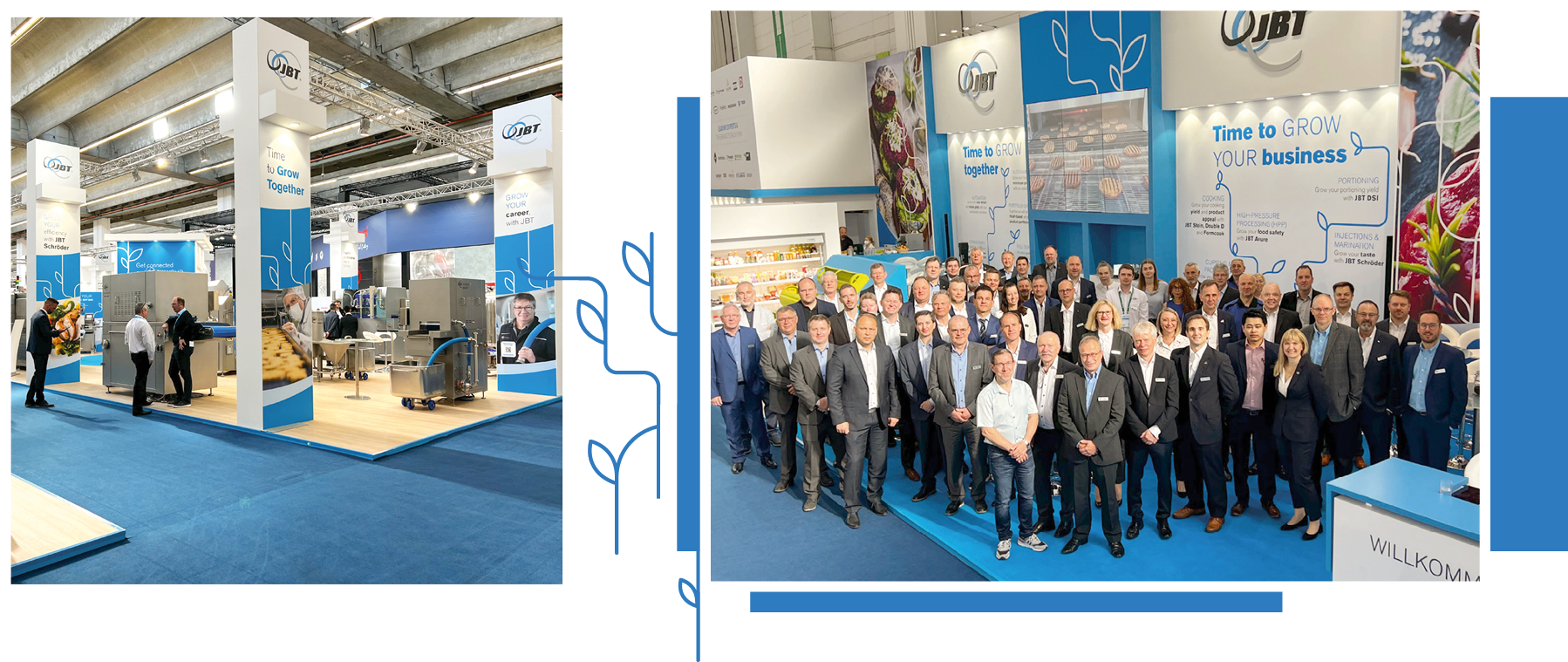 Food safety continues to be a priority
The interest in solutions to maintain high food safety is always very high, and this year's IFFA was no exception. Many visitors searched for innovative solutions to secure more excellent food safety in different processes without generating high costs or making the process more complex. The primary concerns were the safety of the end consumer and the possible impact on the brand caused by product recalls. The main areas of interest were securing traceability and avoiding foreign objects in the food. Preventing listeria, microbial growth on processing equipment, and microplastics was also a hot topic. Many visitors know that JBT has solutions and machine designs that keep the process and food safe. Among other things, they showed great interest in how Avure HPP can increase food safety and extend shelf-life while providing consumers with nutritious, natural, flavorful food. They also were very interested in JBT's series of easily integrated X-ray detection systems, XVision, and the FrigoscandiaGYRoCOMPACT® spiral freezer with its unique self-stacking belt that minimizes the risk of microplastics in food and is 100% cleanable.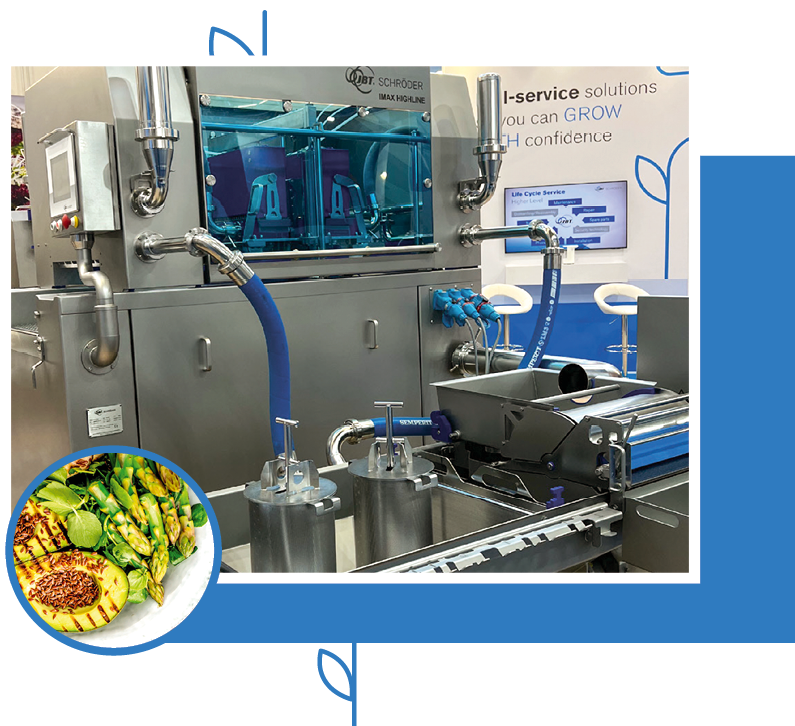 The need for service and expertise benefits full-service providers
Difficulties in maintaining an adequate maintenance process and excellence in the operation of the lines, in combination with a high turnover of employees and limitations of knowledge, have led companies in the food industry to seek full-service partners as suppliers. That way, they get a supplier that guarantees the technical solution and the continuous provision of all the maintenance and operational support of the line, ensuring maximum efficiency and performance. By using a full-service provider, they simplify their structures and simultaneously guarantee better operational results of the lines. JBT has a long history of being able to deliver turnkey solutions for complete food processing lines. They also have the knowledge and solutions to optimize uptime and maximize yield with connected equipment and preventive maintenance. At IFFA, they discussed what challenges their visitors were facing and how JBT as a full-service provider, could be of help. Some topics were integrating all systems and solving interfacing issues, suppliers taking full responsibility, and offering one point of contact.
The demand for energy efficiency drives sustainability
Climate change and sustainability have been a hot topic for some time. But the recent energy cost spike has focused on the need to boost energy efficiency. Many visitors wanted to know more about green technology, how to optimize energy use, make the most out of their resources, and what solutions JBT can provide to help them. But also, reducing water consumption and food waste in relation to yield was of high interest. JBT intensely focuses on sustainability in equipment design and solutions for lowering energy consumption. Their visitors were, for example, interested in how the Schröder IMAX massaging technology leads to very efficient and effective protein activation compared to standard tumbling and how JBT Tipper Tie clipping machines make it easy for companies large and small to choose an environmentally sustainable packaging solution for their products. They also discussed the benefits of using Frigoscandia LVS (Low Volume System) for efficient energy use in freezers and how to reduce water consumption in the cleaning process.
Constant improvement drives interest in connected equipment
JBT presented the new powerful digital backbone, the OmniBlu platform. Their new Customer Care offering takes their core values of food safety and process safety to the next level. The industry's challenge is constantly improving process efficiency and performance, increasing yields, reducing line downtime, and increasing productivity. And at the same time, reducing energy and water consumption, as well as securing quality and food safety. Consequently, many visitors showed interest in how their OmniBlu platform can provide control over efficiency and production performance, operations monitoring, remote control, and predictive maintenance. There was also an interest in using connected solutions to cut execution costs and improve efficiency and yield by monitoring performance and preventing breakdowns. Sustainability is also a driver for connected solutions. With better quality data input and control of production lines, it's possible to reduce the carbon footprint.
Looking for ways to differentiate and benefit from the plant-based trend
The market for protein-based food is evolving, and companies within the food industry must constantly reinvent their products to keep their market share. Companies are interested in developing new products to expand their offer to their existing customers or try to enter new markets. Many of the visitors at IFFA showed interest in plant-based protein and the new business opportunities this could bring. The plant-based market is a worldwide trend, and most animal protein processors have sought to create a product line aimed at this segment. It seemed that interest existed in many companies, but in general, it was more of an expansion than a transition. No one has talked about reducing volumes of traditional products by replacing them with plant-based products. When starting to process plant-based protein, companies often have to change their production structure and verify whether their current equipment would suffice. There was also a bit of uncertainty about product formulation, ingredients, and process, which led to interesting discussions with JBT's food processing experts. At IFFA, the visitors were interested in how JBT as a partner could help them with the right technology and offer a full-service solution, including support in the development phase. They were also interested in many of JBT's solutions for plant-based protein processing. For instance, how JBT Schröder IMAX injection technology, Double D Searer & Grill-Marking, and DSI Waterjet cutting- and portioning system add value to the plant-based product in different ways.
The pandemic creates new consumer trends
More than two years of Covid-19 pandemic with consequences for people worldwide will most certainly affect how we think and act and how we regard our everyday lives. This change will, in turn, affect how we relate to the food we're eating and our health. We can already see some megatrends as a direct effect of the pandemic, trends that will impact the food industry in various ways.
Disrupted supply chains have made people more aware of the need for backup planning. The consequences will be new shopping habits, from locally sourced to direct-to-consumer brands to subscription services. One example is PepsiCo, which launched two direct-to-consumer sites in 2020.
The climate change is still a significant driver of consumer trends, and the pandemic has made it even more so. Consumers expect brands to step up, and they are taking action through the products they purchase as concerns over the climate emergency escalate.
Older consumers' minds broadened to the benefits of the digital world as the pandemic forced them to learn more about how to use them. As older consumers embrace technology, human interactions will still be essential in how they engage with brands.
The pandemic triggered consumers to drastic personal changes and a collective reboot of values, lifestyles, and goals. In 2015, only 12% of consumers prioritized time for themselves, which doubled to 24% in 2021. Companies must offer policies and products that provide value and support personal growth to drive loyalty.
When forced to work from home, the need for space and nature grew, which led to a relocation trend. This trend is especially relevant in developed countries, given the smaller infrastructure gap between cities and suburbs, shorter commutes, and lower housing costs. Incorporating more sustainable initiatives into metropolitan areas, like indoor farming and rooftop gardens, could bring locally sourced produce within walking distance for city residents.
Generally, sustainability is a renewed competitive advantage. Consumers will gravitate toward eco-friendly products and communities. New distribution channels and commerce avenues, such as direct-to-consumer strategies, could offer additional revenue streams. Businesses should consider partnerships with other players across sectors to share resources, expand their reach and achieve objectives beyond their current operational capabilities. 
Sources: Top 10 global consumer trends 2022, Euromonitor International, January 2022