LIMA are specialists in the manufacturing of meat-bone separators, deboners and desinewers with a world presence through a network of more than 70 distributors on all continents.
LIMA has made a name for itself in the poultry industry since its very beginning back in 1981. Poultry processors from small to big-scaled deboning cut-up rooms are equipped with LIMA's separators, deboners or desinewers.
The best quality of poultry MSM at optimal yields with LIMA S meat-bone separators:
The purpose is to maximize the value of co-products, such as, typically: wings, necks, drumsticks as well as poultry carcasses after manual or automatic cut-up lines, which would otherwise be discarded or sold at a very low price as it would be virtually impossible to recover all this meat from the bones manually. The separation of the meat from the bones is performed by using a rotary auger into a filter. The machine gently pre-crushes the bones and as the auger pushes the raw material through the filter, the pressure is easily regulated by adjusting the distance between two conical parts at the bone exit of the machine. A graduated device enables the operator to know exactly in which pressure adjustment the machine is. As the pressure increases on the raw material, it enables to extract through the openings of the filter, the soft part, the meat whereas the hard parts, the bones continue their way to the exit of the machine. The first and most common use of such separated meat, referred to as Mechanically Separated Meat (MSM) is the production of fine paste sausages such as Frankfurters for instance.
A range of LIMA S meat-bone separators from 100 to 20 000 kg / hr input capacity (220 to 44 000 lbs / hr):
With its compact size, the LIMA RM 50 S enables to reach yet substantial outputs and is perfectly sized for chicken meat-bone separation applications, up to 600 kg / hr (1 320 lbs / hr) input capacity in chicken carcasses.
Simply the biggest available on the market: up to 20 000 kg / hr (44 000 lbs / hr) input capacity of chicken carcasses.
The new range of LIMA DDS / DD desinewers and deboners ensures to get very high QUALITY meat on raw products like poultry but also pork and beef.
Those good performances are the results of constant developments on desinewers and deboners tools that submit raw products to the lowest pressure in order to preserve the technical qualities of the collected meat.
For desinewing of various raw materials with or without cartilage, such as, turkey, chicken, beef trimmings, shank beef and pork meat, aponeurosis, high yields are obtained, from 80 to 98% while C/P ratios remain under controlled values and the temperature hardly increases during the process.
For mechanical deboning, the same LIMA machines, equipped with the adequate deboning head enable to produce very HIGH quality separated meat, in terms of  Structure, Colour and a low Calcium content, less than 1000 ppm and are usually referred to as 'structured meat' or '3 mm meat'.
The mechanically deboning applications are quite numerous such as for poultry raw materials: necks, V-bones, drumsticks, front carcasses.
This range of LIMA low pressure desinewers / deboners benefits from all other LIMA machines advantages:
No pre-breaking,
Single stage operation,
Low maintenance cost,
Optimum high yields,
Quick use and operator friendly
Quick payback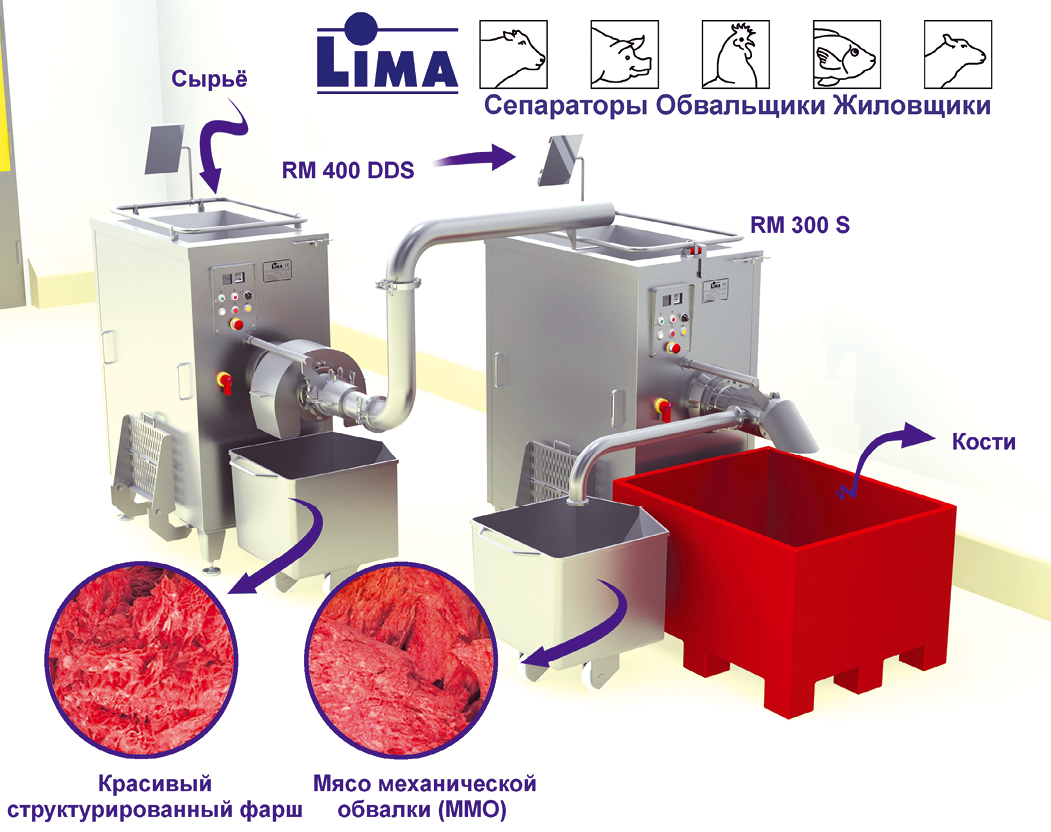 In particular, only a limited number of parts are moving, which explains the extremely low cost of exploitation and the short time of cleaning and disinfection.
LIMA has developed several new desinewers / deboners machines that have a capacity of 100 up to 15 000 kg/hr (220 lbs / hr to 33 000 lbs/hr) of raw products.
Last but not least, LIMA also proposes two-step separation lines (DDS + S) for poultry enabling yet numerous poultry processors around the world to take advantage of LIMA's superior technology to produce very high quality structured / 3 mm meat as well as excellent 'LIMA MSM meat'.
LIMA actively participates in more than 35 different trade shows a year, many of them being specialized in the poultry, meat and fish industries such as IFFA in Frankfurt, ANUGA in Cologne, IPPE in Atlanta, SIAL in Paris, SEAFOOD PROCESSING shows in Brussels or Boston and many VIV shows in Europe, Asia and in the Middle East. So, please feel free to come and meet us to discuss about your separation needs.
LIMA has a world of separation to offer: pork, lamb, beef, fish for meat-bone separators, deboners or desinewers. For more information on our applications and range of equipment, please take a look at our website: