JBT will be showcasing and presenting its comprehensive portfolio of food processing and packaging solutions during the International Trade Fair for Meat Industry (IFFA) May 4-9 in Frankfurt, Germany. At the stand JBT will have live machine demonstrations and give visitors the opportunity to meet their industry and solutions experts. Show-goers can check it out at Stand G06/H06 in Hall 8.0.
JBT´s latest Frigoscandia GYRoCOMPACT® 40 Spiral Freezer will be running at IFFA and has evolved from one of JBT's best selling products, the GYRoCOMPACT® Classic 400 Spiral Freezer, which has sold over 1,100 units throughout the world.
"With the new GYRoCOMPACT® 40 Spiral Freezer we've retained all the best technological features that we've developed over many years, and upgraded a best-selling design to meet this demand. This latest model has around 35% to 40% higher capacity than any comparable freezer of the same size.", explains Torbjörn Persson, JBT's Director of Value Stream & Global Product Line, Spiral Freezers.
A brand new option for this year is the new patented and revolutionary systemLVS QuickDry for fast-drying of spiral freezers after cleaning, helping save hours of non-productive time typically lost attempting to take moisture out of freezers after defrosting.With drying often taking up a third for total cleaning time when it comes to spiral freezers, having a dry freezer back in operation as quickly as possible is key to avoiding downtime.
The LVS QuickDry is a subsystem connected to the LVS Refrigeration™ system that is required to operate the QuickDry function together with hot-gas availability from the refrigeration system.
DSI® 800 Series Waterjet Portioning System
At IFFA we are proud to introduce the DSI® 800 Series Waterjet Portioning System. The DSI brand has been synonymous with leadership and innovation in waterjet portioning of boneless proteins for more than 30 years, producing systems that are equally effective in cutting poultry,fish, beef or pork, or even products as diverse as pies and pizzas.
DSI systems are continually refined to provide food processors with ever-improving automated solutions for portioning, trimming, and sorting. In addition to decreasing labor costs, the System has proven to consistently improve product yield and increase productivity.
Schröder featuring their Line System´s
Schröder, a pioneer in the injection and curing industry, will be showcasing their range of innovative equipment. See the IMAX 600P for poultry and fish injection with a new needle head change system and a further developed brine tank, the IMAX 620HVB for injection of high viscous & high functional brines and the IMAX 400SL – the all-rounder and "working horse" as perfect stand-alone injector. Also present at the stand, the BRIMAX 1000 – the industry benchmark for automatic brine mixing systems, as well as the overall improved new generation of MAX 3000 massagers for the optimum of water binding and protein activation.
Live demos with TIPPER TIE machines
TIPPER TIE will be showcasing a full range of its packaging solutions at IFFA, including the new TIPPER TIE SVU6800. The automatic double clipper can be used for a variety of products; typical deli products, ham, chicken and mortadella, as well as dry sausages and salami's and even whole muscle products. Thanks to the strong voiding system, whole muscles can be processed while accommodating sensitive casings. TIPPER TIE will also show its powerful industrial line with the automated SwiStickXXL hanging line connected to aTT1815double clipper.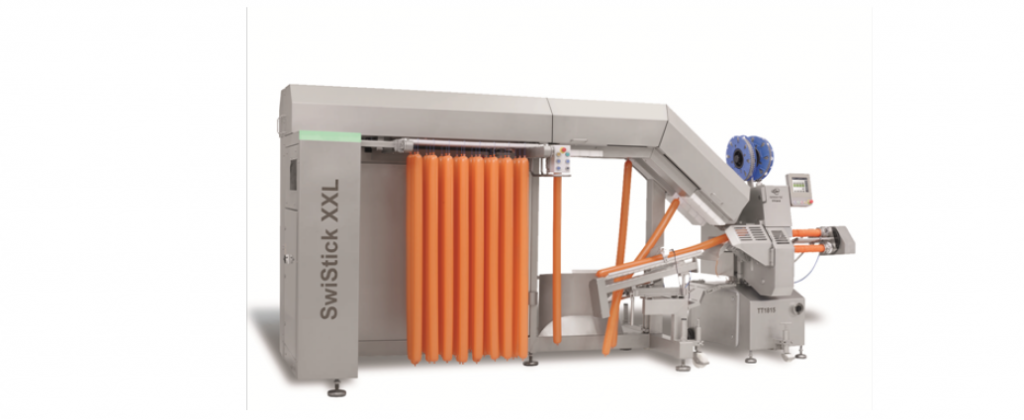 The high speed automatic double clipper SV4800, and the labour saving TTSealH connected to aTT1815. Another highlight will be the SVF1800 low cost spreading voider machine, as well as the complete KDC-Family, perfect for lower volume high mix applications where flexibility and versatility are a priority.
Meet the experts behind HPP
Present at the stand is Avure HPP offering high pressure processing machines for highest output, lowest operating costs, and greatest reliability for food producers and manufacturers. Avure has over 60 years of high-pressure experience, who works with food companies on HPP product development, HPP recipe R&D, packaging and navigating ever-changing food regulations.
Other products exhibited from JBT's portfolio include the Formcook® 618 Contact Cooker for efficient sealing and searing of products and the XVision™ CCPX™ Pack™ an industry leading technologyof X-ray Inspection Systems for contaminant detection of case ready, ready meals, and heat and eat productsthat ismaking its European debut.