Having helped to pioneer the development of automatic plate freezing for the food industry, Danish engineering company DSI (Dybvad Stal Industri) is now a world leader in this field. DSI specialises in designing and manufacturing both manually-operated and automatic plate freezers.
Founded in 1969, the enterprising company has accumulated many years of experience and expertise in supplying plate freezers for the food industry globally. DSI offers a high quality range of vertical and horizontal plate freezers suitable for use throughout the food industry such as in the fishing (both onshore and offshore), meat, poultry, juices and vegetables sectors. All DSI's vertical and horizontal plate freezers can be supplied with automatic loading and unloading systems.
DSI's focus is to optimise the operating performance, reliability and overall efficiency of its plate freezers, to ensure that they meet the changing requirements of customers.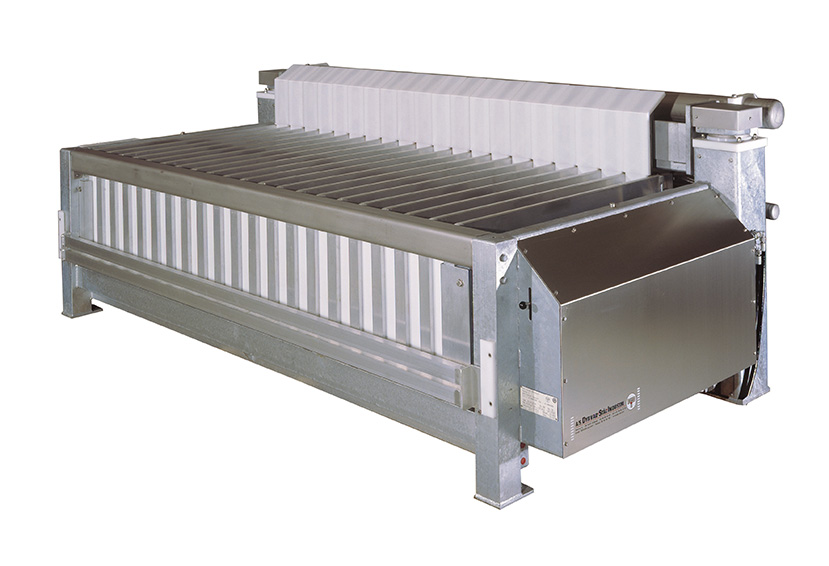 Pioneer
In 2007, DSI manufactured the very first vertical plate freezer with an automatic bottom discharge system. Four units of this freezer were installed on board a Norwegian fishing trawler. The main reason for using an automatic plate freezing solution at that time was to reduce the heavy lifting of frozen blocks by the crew on board the vessel. Till today more than 60 of these vertical plate freezers with bottom discharge has been installed on fishing trawlers.
We have seen a large increase in the demand for automatic solutions and in this respect DSI has developed a wide range of vertical and horizontal plate freezers suitable for different types of automatic block handling," explains Peter Christensen, sales director of DSI.
Latest Development
He continues: "The latest development is an inline horizontal plate freezer with a single opening station system. This means that you are only opening the freezing station that you want to load/unload. A row of blocks are pushed into the freezer at the front side and a row of frozen blocks are then pushed out at the back end of the freezer, while the other stations are still freezing. This ensures a constant pressure on the blocks." And a minimal drip lose from the product = savings.
Most of DSI's installations of automatic loading and unloading systems have been in the fishing, meat processing and pet food sectors. The key advantages of using automatic plate freezer systems are reductions in labor costs and heavy lifting, faster freezing cycles and higher freezing capacities.
"DSI has the widest range of vertical and horizontal plate freezers all suitable for automatic loading and unloading. We also specialize in custom made solutions," points out Peter Christensen. "We have established close co-operation with process equipment manufacturers who supply automatic loading and unloading systems, which are fitted to DSI plate freezers."
Flexible Solutions
DSI can design and manufacture a wide range of freezers with different automatic loading and unloading systems to ensure optimal performance. Indeed, DSI's automatic freezer systems can be tailored to meet each customer's specific requirements.
Global Coverage
Based in the town of Dybvad in Northern Jutland, DSI employs more than 50 skilled people at its modern 9,000 sqm manufacturing facility. DSI carries out projects of all sizes and, by working in close co-operation with refrigeration contractors globally, supplies customers throughout the world. 
DSI's plate freezers are currently in operation in a wide variety of international markets, including Norway, Iceland, Czech Republic, Bulgaria, Croatia, Switzerland, USA, Canada, Russia, Europe, USA, South-Central America , Oceania, Africa, Middle East and Korea.
The high quality of the products and service DSI provides to customers has been central to the engineering company's success. DSI's plate freezers are known throughout the industry for their reliability. They have a long life span, are easy to clean and have very low maintenance costs. Indeed, DSI's very first freezers, manufactured in 1979, are still in operation today. DSI also provides rapid after service support in terms of spare parts or maintenance requirements.