Food industry and smaller operation units have waited a long time for a solution like this.
Knifeinspector easy is the perfect and reliable answer that helps to optimize traceability and increase efficiency of tool management. Knifeinspector easy is based on the innovative RFID-Technology /RFID: radio-frequency identification/.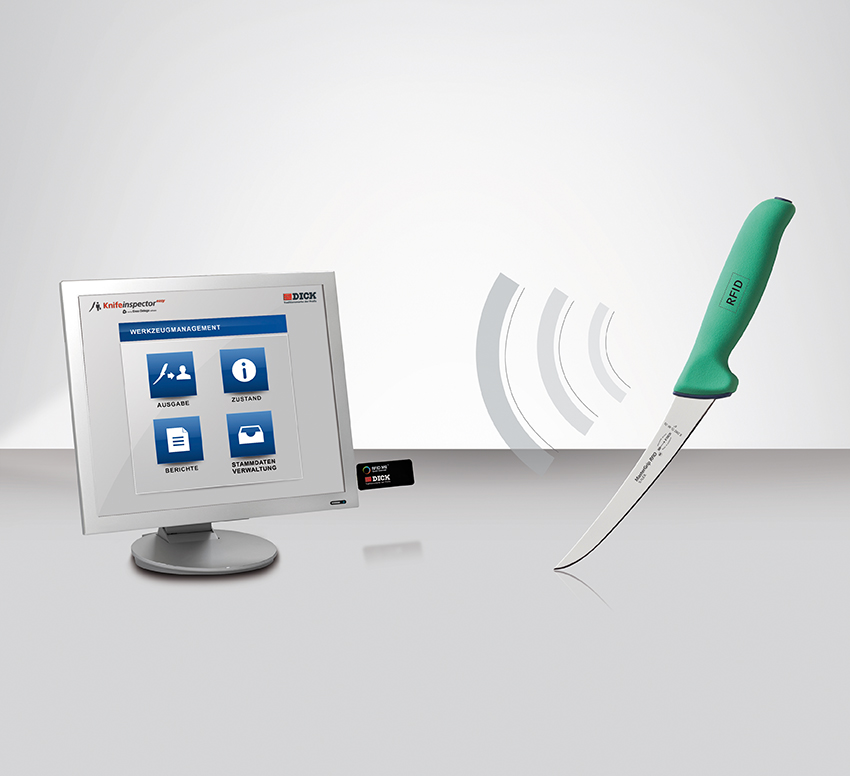 An uncomplicated and cost-saving control system which provides a full overview on your knives and tools regarding inventory, history, status and allocation to the personnel at the push of a button.
Reduction of costs: Manually compiled lists for administration and tracking of tools, which are time and cost consuming, do not occur.

Higher safety standards: Correct and clear allocation to a specific employee. Defects can be related fast and appropriate.

Fewer thefts and losses: Each knife and tool can be clearly identified, completely traced back and allocated to its actual user.

Better overall view: Exact cost analysis through easy evaluation of the data and the individual knife consumption.

More quality awareness: Consciousness of staff will be raised – the quality awareness and sense of responsibility will be neightened.

Saving of time: The RFID Reader can register several knives and tools in the hygienic knife holder or the packing unit at the same time.