Uni-Food Technic is presenting a sextant lane pin bone machine and a new infeed system that is ideal for fish manufacturers who run more than 20 fish per line per minute. The infeed system lowers the speed so that the pin bone machine can keep up with the new generations of high-speed filleting machines without compromising on quality.  The result is that fish manufacturers can minimize labour costs and maximize production efficiency. 
A constant demand in the fish industry for cutting costs and at the same time producing the largest amount possible in the smallest place has led Uni-Food Technic to develop their new products, which are ideal for large-scale production. The sextant lane pinbone remover is the biggest machine on the market today and the new infeed system enables manufacturers to utilize the machine to its full capacity.
"If the filets run too fast through the pin bone machine the amount of fish that needs a subsequent check for remaining pin bones will be quite high and this is time-consuming. The infeed system has a series of sensors that controls the speed so that the individual filets enter the pin bone machine at the right speed. This minimizes the need for checking up on the fish afterwards," explains Bjarne Jensen, Director at Uni-Food Technic. 
The sextant lane pin bone machine can run 40 to 74 fillets per minute depending on the size and nature of the fish. In addition, it is designed to be able to keep up with the largest and most effective filet machines on the market. 
"Together with the infeed system, our machine can produce a very large amount of bone free filets in the smallest possible space without compromising on quality. The pin bone machine has been tailor-made for Bakkefrost in the Faroe Islands and at SPG 2014 we are presenting it to the rest of the market," says Bjarne Jensen.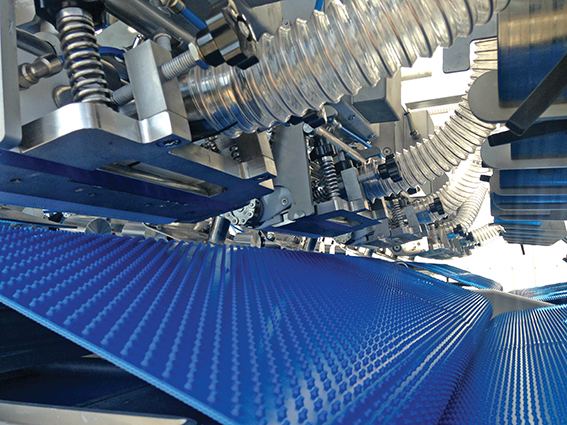 New filet machinewith power steering
At SPG 2014, Uni-Food Technic is also lauching a new filet machine, which automatically changes the knifes' position so that it fits the filets. In that way, fish manufacturers avoid having to change the position of the knives manually which means that it is possible to heighten the capacity per hour, especially for plants that process a range of different fish sizes on a daily basis.