STALAM will participate once again in the SEAFOOD PROCESSING GLOBAL 2014, where it will present the latest and most advanced Radiofrequency technology for the rapid defrosting of seafood.
STALAM RF defrosters have become best-sellers in the market in a very short span of time, thanks to the great benefits they bring to their end-users.
Defrosting is achieved in minutes rather than hours/days, even for large product blocks and, if necessary, directly inside packaging used for storage (carton boxes, polyethylene bags, etc.).
The processing speed and uniformity minimize product degradation: No drip loss; No deterioration of organoleptic, chemical or physical properties; No bacterial growth; Thus the very best product quality is preserved.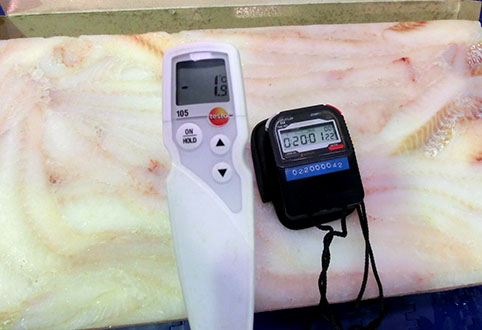 Defrosting carried out continuously, with significant logistical advantages in product handling and production scheduling. 
It requires much less floor space compared to the traditional, large defrosting rooms or equipment; overall processing costs can also be reduced drastically compared to conventional techniques.
Main construction features of the machine:
Radio Frequency at 27,12 MHz
Construction in AISI 304 & 316 stainless steel submitted to anti-corrosion treatments (passivation, pickling) and shot-peening finish
Protection level IP65
Wide conveyor belt (up to 180 cm) made of certified food-grade rigid polyethylene modules or solid-surface reinforced polyester
Built-in conveyor belt & tunnel washing facilities and full internal access for cleaning through the multiple side panel doors
PLC control system for multiple product recipes
Modular Construction: multiple modules can be combined to increase the production  capacity
During the show the new model RF 7kW will have its world premiere and we will carry out two daily demonstrations at 11 a.m. and 3 p.m.
We wait for you in our Hall 4 – Stand 5902.
For further information, contact STALAM at stalam@stalam.com or call +39 0424 597 400
STALAM S.p.A  Via Dell'Olmo 7, 36055 Nove (VI) Italy