The long-established machine manufacturer, WEBOMATIC, Germany, stands for vacuum packaging machines both for the industry and the trades.
In the thermoforming series, the company offers four models for different production capacities. The economical ML-C 2600 fits into almost any place of use, whereas the modular ML-C 3600 can be built precisely according to the client's requirements. Its bigger sister, the ML-C 5600, is designed for a high-speed operation and perfectly fitted for a packaging line and sophisticated extra equipment, among them the Darfresh® skin-packaging. This also applies to the APS ML 7100, WEBOMATIC's heavy-duty, high-performance thermoformer system. 
WEBOMATIC thermoforming machine ML-C 5600; here equipped with an optional labelling station
Die WEBOMATIC double chamber machines duoMAT is built in the sizes 450, 650 und 850 according to the length of the sealing bars; shown here is the duoMAT 650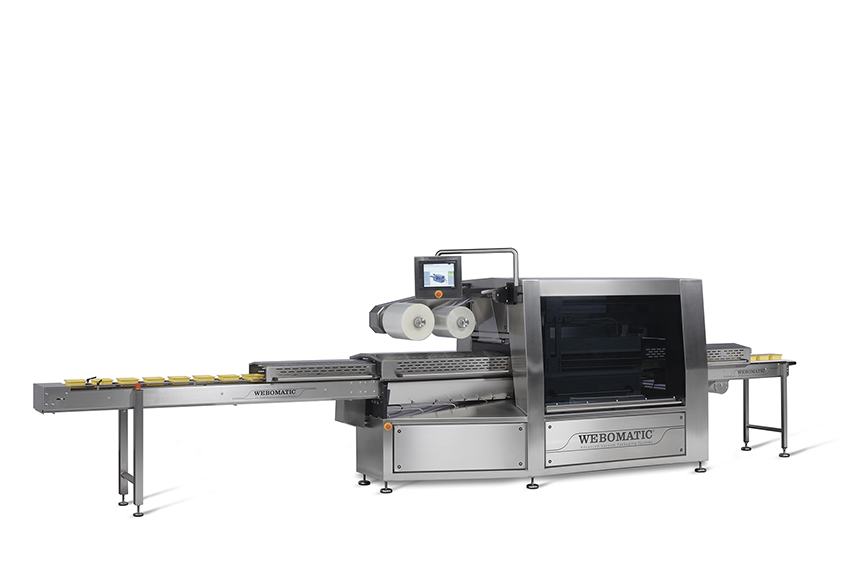 The tray sealer TL 1100 with a standard double film unwinding for the uninterrupted production
Process stability is not only ensured with WEBOMATIC's thermoforming, but also with the tray sealing machines. The tray sealer TL 1100 is also an exemplification of energy efficiency. Generously employed servo motors save compressed air and optimize the transport movements. The Single Cavity Control (SCC) controls up to eight independent sealing units and thus ensures an uninterrupted production.
With their semi-automatic and manual vacuum machines WEBOMATIC keeps an eye on the medium and small food trade. Among these, the tray sealer TL 300 with its hygienically shielded film chamber is especially worth mentioning. For this solid machine WEBOMATIC manufactures, as optional equipment, a die set which can produce skin packages as well as MAP packages – an exclusive innovation in the packaging industry.
The latest development among the double-chamber machines is the duoMAT with its brandnew Glass-Touch control. The machine, which is built in three sizes, features finely tuned vacuum options such as "Best vac", "Ultimate value" or "Time select".
All new WEBOMATIC machines are developed according to CleanDesign criteria. A solid stainless steel frame enables a full wash-down. Constructive measures, such as distances between building parts, prevent the gathering of puddles and the build-up of germs.
WEBOMATIC, a family-owned company, has been developing and manufacturing packaging machines and packaging lines for more than 50 years at their plant in Bochum, Germany.