The iqf-freezzers freezelite.and blizzard. are designed for cooling and freezing of bulk products which need an individual quick freezing procedure (IQF) such as fish pieces, shrimps and other kinds of flowable seafood. The systems are different in size and throughput, but quite similar in function, execution and options.
The small dimensions of the freezelite.system (width 3,700 mm, height 4,500 mm, lengths 4,720 mm resp. 7,400 mm) assure the application where only limited space is available. – Completely pre-mounted on a frame a maximum flexibility in a growing or changing production environment is guaranteed.
With its capacity range up to 1,500 kg/h resp. up to 2,500 kg/h, a belt width of 880 mm (options: metal or plastic modular belt), an integrated belt cleaning system, its stainless steel design as well as its integrated cleaning system, the freezelite.offers a very extensive standard configuration.
Additionally there are numerous options for this system available: an externally extended infeed, product dewatering, a belt agitator etc.
While developing the freezelite.the engineers of Heinen Freezing attached great importance to a wide field of applications for the fluidised bed system. In the following only a few special features of the new freezelite.series:
frequency-controlled fans (individual control for the pre-freezing and main freezing zones)
standard industrial components as well as DIN – and standard parts increase production reliability and decrease costs for spare parts
inspection bridge between air cooler and conveyor system for supervision of the freezing process and for cleaning purposes
easy disassembly of system parts for maintenance and cleaning purposes without tools
multi-language and symbol-controlled operation via touch-screen display
program selection for freezing/cooling, defrosting and cleaning via comfortable recipe administration and quick selection by means of customer-specific product pictures
modem for remote control included in basic version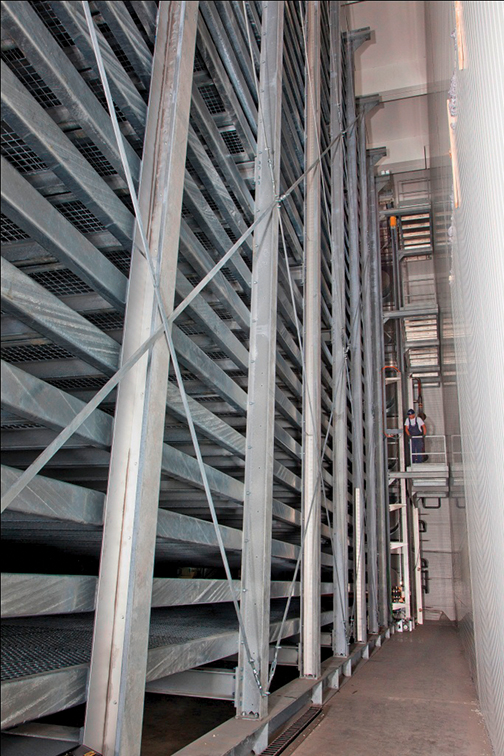 The design of the freezelite.already considers the latest developments in terms of service life extension (production time without defrost). A modified air flow through the air cooler optimises the distribution of frost and ice on the fin surface. Thus, the process time available before pressure loss due to snow building and defrost of the air cooler, can be increased considerably.
blizzard. the fluidised bed freezer of larger dimensions as the freezelite.system and for capacities of 1,000 kg/ up to 10,000 kg/h. We offer you a product-oriented system that guarantees uniform freezing and cooling of your particular products in an IQF process (individually quick-frozen). Pre-freezing and main freezing section in hygienic design with stainless-stell and plastic materials to meet the requirements of the food industry.
SPECIAL OPTIONS FOR FREEZELITE.AND BLIZZARD.
condiMOT® – Automated condition monitoring for the entire system.
Production time is valuable. Every minute of usable plant time is important and every minute of downtime due to maintenance or cleaning causes added costs. This applies in particular to plants that are continuously operating in multiple shifts. Therefore this kind of maintenance is different from the cost-intensive variants of preventative maintenance (where expensive components might be replaced too early) and condition-oriented maintenance (where components might become damaged to a degree that prolonged plant downtime is inevitable).
As an example, the condiMOT.® system monitors all drives as well as the ventilator motors in order to ensure its proper functioning. The signals are forwarded to the control unit via an evaluation unit. This way the actual condition of the monitored components is shown on the control unit's display. The belt agitators and air evaluation are also continuously monitored in order to detect operating errors or damage prior to a fault, which will cause plant downtime or impaired plant operation. This way the user is given essential instructions in time via the display so that he can request for specific maintenance work to be carried out.
This way the user is notified of the need to intervene as early as possible, which means that he will have sufficient time for planning and implementing the necessary measures.
Camera monitoring – one digital colour camera, which are installed above the conveyor system allow the comfortable monitoring of all functions. Intelligent system diagnostics software uses the images, which have been recorded prior to and immediately after a fault, and provides them to the user for fault analysis and to change production parameters. The settings of the various operating modes can be checked immediately on screen and comfortably monitored during the production process without having to enter the freezer.
Hygienic cabling – An option for improving general hygiene and cleanliness around the plant. Hygienic cabling means that all cables from the consumer are routed out of the insulated housing via the shortest possible route. Outside the housing the cables are routed using the "single cable layering" process. They are collected via a bus system and routed to the control cabinet. This way the overall cable length within the system and the necessary installation technology (grids, individual cable ducts) is reduced. The remaining cables outside of the insulated housing are routed in open special steel grids and mounted with spacers in a manner that easy and optimised cleaning can be achieved.
Combined with the fully welded insulated housing, which is placed on the flat floor of the building, as well as a base frame or concrete foundations, we offer the highest possible hygiene standards for food production.